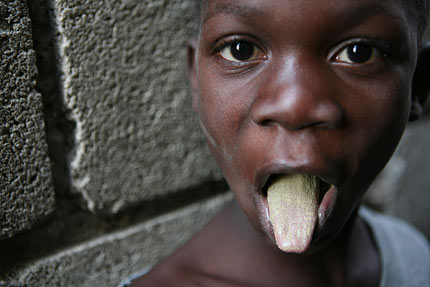 Why Does His Tongue look Dirty - because he's just eaten DIRT, His ONLY MEAL For The Day
Dirt Cookies are presently what the people of Haiti have been reduced to eating as they struggle under A Club of Paris Vampire Debt System. Bill Clinton has taken the UN to task on their empty promises to Haiti. now it appears that once again he is tossin their salad, and asking them to Kiss Haiti's Ass. it's about time they quit lyin and started living up to their word.
Haitis' economy was ruined by the US and it's Paris Club associates. after colonialism and slavery, Haiti has never been allowed to have free control of it's economy or social and governmental issues. there has always been an outside influence forcing the government one way or another one.
do you remember Aristide ?
We remember him and we also know Renee Preval.
The Haitian People are who we don't know and maybe it's time we did.
The next time you give your Kids a Cookie - Think of the Hatian Child Above
with only DIRT COOKIES;
Just a Thought on todays Hungry and Thirsty Thursday,
and yes Bill Clinton is Serving it up to the World.
UN envoy Bill Clinton chides donors over Haiti aid
September 10, 2009 Reuters.com - Louis Charbonneau
UNITED NATIONS (Reuters) -- Haiti has kept its promise to build a government but donor nations have failed to deliver the aid they pledged to the poorest country in the western hemisphere, Bill Clinton said on Wednesday.
Former US President Bill Clinton, United Nations Special Envoy for Haiti, addresses the Security Council as he gives a report on the UN Stabilization Mission in Haiti at UN headquarters in New York. AFP PHOTO
"They've only gotten a pittance of the aid that was pledged to them," Clinton, UN Secretary-General Ban Ki-moon's special envoy to Haiti, told reporters after addressing a meeting of the Security Council on the Caribbean nation.
"A lot of that is part of the appropriations process that plays out in the latter half of every year," the former US president said. "But we can't get to January with only $21 million of over $760 million in commitments disbursed down there (in Haiti)."
"We've got to get the show on the road," Clinton added.
Clinton said Haiti has been delivering on promises to stabilize the country.
"They did what they were supposed to do," he said. "They've got a functioning political system. The legislature's working with the executive branch. They've got a good government there. ... They need the rest of us to do more."
US Ambassador to the United Nations Susan Rice told the Security Council that "real gains have been made to improve security in Haiti.
"But we are acutely aware of the potential threats, including transnational crime, gang violence and civil unrest," she told the 15-nation council.
Clinton added that he hoped to boost private investment in Haiti. But the success of private investment projects, he said, will depend on donor nations living up to their aid commitments so Haitians can continue to improve their infrastructure.
Devastating hurricanes caused an estimated $1 billion of damage last year, while the global financial crisis brought a sharp reduction in remittances vital to many Haitian families.
Ban has also urged donor countries to be generous to Haiti. He has been influenced by a report by British academic Paul Collier which said that if Haiti could improve its roads and ports, it was well-placed to benefit from low labor costs and duty-free access it enjoys to the US market.
UN officials say that security has improved dramatically in Haiti, where just a few years ago large areas were controlled by heavily armed gangs that killed, kidnapped and raped with impunity.
After decades of dictatorship and military coups, Haiti's civilian police force was created just 15 years ago, when its army was disbanded. The UN peacekeeping mission known as MINUSTAH, made up of 7,000 soldiers and 2,000 police, has worked to help stabilize Haiti since its last revolt in 2004