This is Entertainment Suss with Lady D and Mama ASID - 08/29/08
listen live from 4pm to 4:45pm every Friday - afrocaribradio.com

URL:
Police murdered Spragga's son?
Police murdered Spragga's son?
The family of Carlton 'Carlisle' Grant is seriously concerned about what they describe as a desperate attempt by the police to cover up his killing last Saturday night.
They say that the police have been acting unprofessionally and have fabricated a tale to cover their tracks after shooting the 17-year-old.
Fired gun
Grant, son of deejay Spragga Benz, was killed by the police along Church Street last Saturday night. Police allege that they were on patrol when two men were seen on a bicycle. They were signalled to stop and complied. One of the men, the police reported, pulled a gun and fired at them. The fire was returned and the men ran. The area was searched and Grant was found suffering from gunshot wounds. A semi-automatic pistol was also allegedly taken from him. Grant was taken to the Kingston Public Hospital where he was pronounced dead.
But this report, Grant's family says, is totally false. They say they have witnesses who gave a completely different story.
Grant's aunt and another family member who contacted THE STAR yesterday said the teen and another man were first signalled to stop. The police, they say, exited their vehicle, questioned the men and eventually fired a shot which hit the teen in his face.
The other young man, they said, was told to run and while he was doing so additional shots were fired at him.
Suspicious
What makes the family even more suspicious of the police's report is that they saw a videotape that shows Grant going into a gas station near to Church Street to purchase a sandwich minutes before the incident. They say that there was no sign of a weapon on the teen. This video they say will be given to the police to use in their investigations.
Yesterday, to make things even worse, they say there was an attempt to arrest the other youngster after they went to make a report. "Is like them a try get rid ah him. Dem a try everything to cover up them tracks," one family member said.
Grant's death has been devastating for the family, especially for Spragga, who returned to the island on Monday. "Him fadda just hug up Sharon (Grant's mother) and say she must not cry. And him not really saying anything, you just see pure tears running from him eyes," Grant's aunt said.
She describes the teen as a quiet child who wanted to be an actor. Having been in the movie Shottas, he was set to be part of another movie to be shot overseas later this year.
Efforts by THE STAR to get a comment from the Bureau of Special Investigations which is investigating the incident was unsuccessful up to press time.
SPRAGGA SAYS NO RETALIATION

Mi ah read the website, dancehallmuzik.com where Spragga Benz urges no retaliation for the shooting death of his son. In the interview, Spragga said: "I just want di yute dem fi take it easy and let the law take its course. Mek wi see what di investigations will find out. I want dem to know dat it's all a part a life." When asked if the police had officially spoken with him regarding the incident he replied, " No, nobody nuh talk to me, but right now mi not even innna di frame a mind fi talk to nobody either.
And what a way dem find Dr. Dre son dead just so so so? This is a very bad week for celebrity dads.
TEACH !!
,
Tired of the Politricks
,
election 2008
|
Leave a Comment
August 28, 2008 12:51 PM
ABC News' Jennifer Parker reports: Civil rights leaders including Martin Luther King Jr.'s daughter, Bernice King, and the Rev. Al Sharpton, as well as African American celebrities like Oprah Winfrey's best friend Gayle King, Cicely Tyson, Lou Gossett Jr., and actors Alfrie Woodard and Blair Underwood, gathered for breakfast in Denver today on the anniversary of Martin Luther King's famed 'I Have a Dream Speech.' The event, a "unity" breakfast organized by Barack Obama's campaign, occurred just hours before Obama delivers his own historic acceptance speech as the nation's first African American major party presidential candidate.
"I hope I can remain upright in my chair," Gayle King told ABC News of Obama's speech at Invesco Field, which is expected to be delivered tonight before an estimated 76,000 people.
When people say 'I have a dream' today, I say my dream is coming true," she said. "I knew this day would come and I still know it."
Of her friend Oprah Winfrey, who is in town for Obama's speech, King said, "She wouldn't miss it."
For many black leaders the day is charged with emotion.
"Having been at the march in 1963 several feet from the platform and looking directly in the face of Dr. King when he made that historic address, today could not be more appropriate or more fitting," civil rights leader the Rev. Otis Moss Jr. told ABC News.
"Sen. Obama represents the very thing that Dr. King articulated, not only in that speech, but in his entire life and work," Moss said.
"I'm numb, I'm absolutely numb," Tyson told ABCNews.com.
"I never, ever dreamed that, in my lifetime, I would be witnessing this," Tyson added.
"I really don't know what he'd say," said Georgia Rep. John Lewis, when asked what civil rights icon King would say were he alive today. "But I think he'd say 'hallelujah.'"
Lewis is the last living person who spoke at the MLK march.
Firing up a crowd of about 500 black Democratic delegates, celebrities and faith leaders, the Rev. Joseph Lowery, president of the Coalition for the People's Agenda, said Obama doesn't have to be a civil rights leader between now and November.
"He can go ahead and be president and leave the agitating to us," he said to cheers and whoops of "That's right!"
"The most important thing he can do for the nation is get elected," Lowery said.
Bernice King also brought the crowd to its feet, arguing that, despite Obama's historic accomplishment, her father's work is far from done.
"He declared that he may not get there with us," she said, "and we are on our way to the promised land, but we are not there yet and our next step is unity."
"Let us be satisfied when our young men are going to college not going to jail," she said to loud cheers and applause. "The movement is not there, let's continue the movement!"
Not to be outdone, Sharpton brought the crowd again to their feet with a verbal slap against President George W. Bush.
"The media keeps talking about passing the baton," he said of news coverage about former President Bill Clinton's solid endorsement last night of Obama. "The only baton that we're going to pass is from George Bush to Barack Obama."
Sharpton said civil rights leaders will go in November to "states that seem to have difficulty counting votes."
"We're going to make sure that the names of African American voters don't mysteriously disappear," he said, "Not this time! We will not be divided. Not this time!"
Other speakers echoed that Obama's candidacy alone isn't enough.
Charles Steele of the Georgia Southern Christian Leadership Conference said Obama is about to make history, but the fight isn't over.
"We might quit at this point, but we can't quit, we can't let Martin Luther King, and other civil rights leaders in the movement, down," Steele said. "I challenge you to think about this moment not as a fulfillment of the dream, but an important step along the way."
Steele said African Americans still have to fight on a daily basis against higher rates of poverty and racism.
Others expressed pride in Obama for being the first black to run for president on a major party ticket.
"I just wish my dad was here to see this," said actress Holly Robinson Peete, whose late father, TV producer Matt Robinson, marched on Washington.
"He would be so proud of Obama," she said.
"To have it occur on the 45th anniversary of the march on Washington — that it was destined to be. It could have never been anyone else," Tyson said.
"My old friend Jane Pittman used to say that when a child is born, folks look into its face and ask, 'Are you the one? Are you the one?' Well, he is definitely the one," she said.
Barack Obama Ignites the Crowd with his Acceptance Speech
DENVER, Colorado (CNN)
— Sen. Barack Obama laid out his plan to lead the country into an era of change as he accepted the Democratic presidential nomination Thursday night, securing his place in history as the first African-American to lead a major party ticket.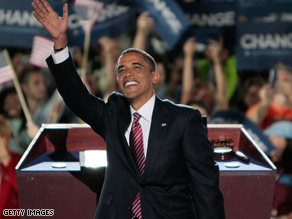 Sen. Barack Obama accepted his party's nomination for the presidency Thursday night.
"Change happens because the American people demand it — because they rise up and insist on new ideas and new leadership, a new politics for a new time. America, this is one of those moments," he told supporters at the Democratic National Convention. "I believe that as hard as it will be, the change we need is coming."
Obama pitted himself against John McCain, repeatedly countering attacks from his Republican rival while casting the election as a choice between change and failure, as he addressed tens of thousands of cheering people and millions of primetime TV viewers.
In addition to slamming McCain on Iraq, energy policy and health care, Obama said his rival for the White House is out of touch with the concerns of the average American.

Watch Obama accept the historic nomination »
"He said that our economy has made 'great progress' under this president. He said that the fundamentals of the economy are strong. And when one of his chief advisers — the man who wrote his economic plan — was talking about the anxiety Americans are feeling, he said that we were just suffering from a 'mental recession,' and that we've become, and I quote, 'a nation of whiners,' " Obama said, eliciting boos from the crowd.

Watch Obama blast the status quo »
The speech marked the culmination of the four-day convention in Denver, during which party leaders pushed to heal the rift from a bitter and prolonged primary battle between
Obama
and Sen. Hillary Clinton. By Thursday, Obama had received clear endorsements from Clinton and her husband former President Bill Clinton.
"I stand before you tonight because all across America something is stirring," Obama told the audience. "What the naysayers don't understand is that this election has never been about me. It's about you."
In a statement issued immediately after the speech, the
McCain
campaign called the speech "misleading" and said it was "fundamentally at odds with the meager record of Barack Obama."
"When the temple comes down, the fireworks end, and the words are over, the facts remain: Sen. Obama still has no record of bipartisanship, still opposes offshore drilling, still voted to raise taxes on those making just $42,000 per year, and still voted against funds for American troops in harm's way. The fact remains: Barack Obama is still not ready to be president," said a statement from the campaign. The "temple" is a reference to the columns that formed the backdrop for Obama's speech.
Obama also outlined his promises for the nation — vowing to cut taxes, end the country's dependence on oil from the Middle East and offer affordable healthcare for all Americans. He also pledged to end the war in Iraq responsibly, and "finish the fight against al Qaeda and the Taliban in Afghanistan."
iReport.com: Watch and share your thoughts on Obama's speech
He wrapped up his speech by telling the crowd, "America, we cannot turn back. We cannot walk alone. At this moment, in this election, we must pledge once more to march into the future."

Watch as fireworks mark the end of the convention »
The crowd gave Obama a roaring welcome and met lines of his speech with chants of his catchphrase, "Yes, we can."
Many political pundits said Obama hit it out of the park with his nearly 50-minute speech, and those in attendance agreed.

See what CNN analysts have to say about Obama's speech »
"It was an excellent home run," said Matt Besser, an Obama representative to the DNC platform committee. "He did everything he needed to do. He gracefully dissected John McCain and then set out his own vision, and clearly everyone got it."
In the hours leading up to the speech, a star-studded line up of musicians performed, including Stevie Wonder, John Legend, Sheryl Crow and Will.i.am.

Watch musicians perform at the convention »
The scene was much like a rock concert, with the foot-stomping, flag-waving crowd dancing and bouncing beach balls as they awaited Obama's arrival.
When Obama officially locked in his party's nomination on Wednesday, delegates sobbed, cheered and hugged in celebration of the historic moment.
The Democratic candidate's address fell on the 45th anniversary of the Rev. Martin Luther King Jr.'s "I have a dream" speech.
In an emotional tribute to the slain civil rights leader earlier in the evening, King's children paid respect to their father and said he would have been proud of the party and the generation that would realize his dream. Civil rights hero Rep. John Lewis and Rep. Jesse Jackson Jr., son of civil rights leader Jesse Jackson, were seen hugging each other and weeping.
McCain also honored Obama's achievement in a television ad that aired during the convention.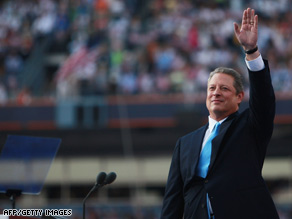 Earlier in the evening, former presidential candidate Al Gore turned the focus to the environment, an issue that received little attention earlier in the week. He also invoked the bitterly disputed 2000 presidential election to argue that Americans should elect Obama in November.
Read about Gore's address
Eight years ago, some said there was not much difference between the nominees of the two major parties and it didn't really matter who became president," he told delegates. "But here we all are in 2008, and I doubt anyone would argue now that election didn't matter," he said.
URL: Tourists, residents flee as Gustav swamps Jamaica

St Mary cop murdered
published: Friday | August 29, 2008
Not even the pouring rains of Tropical Storm Gustav were enough to quiet the gunmen who continued their murderous rampage in St Mary yesterday.
This time their victim was police Inspector Audley Smith, the acting head of operations in St Mary.
Reports are that Smith had just left the St Mary Parish Council Emergency Operation Centre and stopped at a bar in Race Course in the parish when he was fatally shot by the gunmen shortly before eight yesterday evening.
Up to late last night, details of the murder were not available and investigators had not determined a motive.
Minutes after the shooting, an obviously shocked Mayor of Port Maria Richard Creary expressed regret at the killing of the cop who spent most of yesterday involved in planning the council's disaster response.
Major send-off
"He was one of the best policemen you can find, everybody loved him and St Mary will not be the same without him," Creary said.
The mayor noted that residents of Retreat in the parish had staged a major send-off for Smith when he was transferred to the Oracabessa Police Station recently.
Smith was the 10th member of the police force to be murdered since the start of the year and the second inspector this month.
Inspector Dennis Gardner and Corporal Rodney Henry were murdered in separate incidents on August 2.
Gustav's gift to Rae Town
published: Friday | August 29, 2008
Residents of Rae Town, Kingston, scramble for fish as strong waves lash the Kingston shoreline yesterday.
While some Jamaicans were busy running away from the oncoming Tropical Storm Gustav, some residents of downtown Kingston were running towards it with buckets, scandal bags, pots, pans and everything else they could find. They were hoping to catch fish that were literally jumping out of the water and on to the beach.
The residents discovered the catch around 4 p.m. when they saw some policemen at the seashore staring down into the rough polluted sea along Victoria Pier. To their amazement, they saw a school of fish popping out of the murky water in almost miraculous proportions reminiscent of biblical miracles. Many quickly grabbed what they could, while others quickly fetched containers for the catch.
As news spread about the bounty, scores of people scampered to the area, anxious to get their share of the Gustav gift.
"Me see some police down there so and mi cousin call me and wi go down there and start pick dem up," said one woman, who had caught about a dozen fish.
It was a real fish fest, where a wide variety was available for the catchers. Grunt, parrot and grouper in various sizes will make quite a feast for residents. One man supposedly caught a jackfish. However, when our news team arrived, we were unable to locate him.
Lucky catch
The residents said their lucky catch was washed ashore by the storm currents.
The increased intensity of the rains caused by the storm did not deter other residents, who heard about the surprise catch, from seeking out a piece of the action.
Armed with crates, buckets and just about anything that could carry the fish, adults and children rushed to the waterfront, lining the shoreline from Rae Town to Port Royal Street. They moved feverishly to find the right spot that was offering the best reward. Despite the heavy downpours and the rising tide, the residents cast their fears aside for the prospect of a free-fish meal.

This resident of Rae Town, Kingston, carries a bucket of fish, which were washed ashore during wind and rain associated with Tropical Storm Gustav, yesterday. - PHOTOS BY Junior Dowie/Staff Photographer
Marine biologist Peter Gayle surmises the fish could have jumped from the sea as a result of being robbed of oxygen because of excessive nutrients that could have washed into the marine environment from land.
"It could also be that there was something caustic in the water," Gayle guessed.
Environmentalist Peter Espeut has a similar theory. He believes the fish could have found themselves on land because of a condition called chemical oxygen demand, in which chemicals in the water could be robbing the fish of oxygen, forcing them to find air above the ocean.
"With the Kingston Harbour so polluted, it might be a possible explanation," he said.
Family emergency plan


Assign roles/responsibilities for hurricane preparedness and evacuation to each member of the household long before actual storm.
Establish an evacuation plan and map out exit strategy and route.
Review emergency plans monthly.
Ensure all doors and windows are properly secured to make break-ins difficult.
Alert parish disaster coordinator and police when evacuating premises.
Place furniture on raised platform, e.g. building blocks, to prevent flood damage.
If not carrying all important documents, such as passports and ID cards, lock them in a watertight container.

One person was injured yesterday as this minibus carrying four persons overturned on Hope Road in St Andrew. The driver reportedly lost control of the vehicle after it skidded on the wet road. - Junior Dowie/Staff Photographer
Hurricane tips
Three-day supply of water (one gallon per person, per day) and ready-to-eat non-perishable foods, such as tuna, sardines, canned sausage, crackers, canned fruit
View larger image
This satellite image shows Tropical Storm Gustav over the Caribbean on Thursday, Aug. 28, 2008. (AP / NOAA)
Tourists, residents flee as Gustav swamps Jamaica
Updated Thu. Aug. 28 2008 8:37 PM ET
CTV.ca News Staff
The death toll from Tropical Storm Gustav is at 59 as the storm swerves across Jamaica - and may have its sights set on New Orleans.
At least 51 people died in Haiti from floods, mudslides and falling trees while eight more people were buried when a cliff gave way in the Dominican Republic. One woman died clutching her 11-month-old baby while five more of her children were smothered in the wreckage beside her.
As of 8 p.m. ET, Gustav was centered about 25 km west of Kingston, Jamaica and about 485 km east-southeast of Grand Cayman and is moving westward at about 11 km/h.
Forecasters at the U.S. National Hurricane Center said on this track the center of Gustav will cross Jamaica tonight and move near or over the Cayman Islands Friday.
A U.S. Coast Guard boat passes fuel oil storage tanks on Wednesday, Aug. 27, 2008. The brief respite for consumers at the pump may soon come to an abrupt end as preparations for tropical storm Gustav curtail refining activity near the U.S. coast. (AP /Mark Lennihan)
Meanwhile, tension is mounting on the U.S. Gulf Coast as Louisiana and Texas national guards are on standby in advance of the storm.
Officials in New Orleans also pondering an evacuation of the city nearly three years to the day Hurricane Katrina battered the city.
Mayor Ray Nagin, who was attending the Democratic National Convention in Denver, left early to help the city prepare.
Louisiana Governor Bobby Jindal said he believes there's a good chance Gustav will strike the Gulf Coast.
In Jamaica, authorities urged people in rural areas to find shelter while businesses remained open Thursday in Kingston.
Ronald Jackson of Jamaica's Office of Disaster Preparedness (ODPEM) told CTV Newsnet on Thursday that they've begun the process of evacuating parts of the southern and northern coasts of the island, but have not forced residents to leave their homes.
Jackson said they have seen a steady flow of people in the 34 shelters they have opened; five of which are now occupied.
ODPEM are not getting the high levels of compliance they would like to see with evacuation orders, Jackson said, but he added that it is a marked improvement from over the last six years.
In the Cayman Islands, tourists were being evacuated Thursday as resorts shut down in advance of the storm.
Stacey McLaughlan of Albany, N.Y., said she and her husband were told to leave their resort by noon Thursday.
McLaughlan told The Associated Press she was told that if she didn't leave the island she'd have to go to a shelter.
The Office of Disaster Preparedness and Emergency Management (ODPEM) is reporting that 700 persons are in shelters islandwide as of 6:00 pm with almost half of them in St Thomas. Meanwhile one shelter in St Catherine, Old Harbour High School,
Thursday talk - Gustav to affect Irie Jamboree?
28 Aug 2008 | by Abena, Freelance Writer / one876entertainment.com
WILL GUSTAV AFFECT IRIE JAMBOREE?
There are concerns that TS Gustav may affect Irie Jamboree's promotional activities as a number of artistes may have had their flights postponed because of the inclement weather associated with the TS. Deejay Beenie Man who is in England, and singer Mavado are two of the headline acts who may have to tweak their travel arrangements if they intend to make it to New York for the show. Today, Air Jamaica plans to cancel all flights as of 12 noon at the Norman Manley Int'l airport and as of 2:30 p.m. at Donald Sangster International. When flights resume on Saturday, there could be an ugly backlog that could affect the availability of flights to New York. One876 will keep you posted to let you know what's popping?
MACKA HOSTS BACK TO SCHOOL GIVEAWAY
Mi love how Macka ah give back to the community, she was a part of a back to school giveaway recently where she gave away Chubby back to school gifts and Caribbean Cool gift baskets to children.
BOLT RETURNS TO JAMAICA SEPTEMBER 3

Mi hear say Bolt will be returning to Jamaica September 3 so there is going to be pandemonium in Jamaica next week when him drop inna the place, worse, we just survive big storm and ah try build back. That will be like a big occasion fi we rejoice inna the fact that we are a blessed nation.
the wheel
|
Leave a Comment
Kartel and Mavado - is it Real or Memorex ?
What do you think about the feud between Vybz Kartel & Mavado – Real or Fake?
While
Vybz Kartel
and
Mavado
are not on good terms in
Jamaica
, the remix of
'Gangsta'
by
French
producers
Daddy & Hypa (D&H)
is fast becoming a monster hit in
France
. The remix features
Mavado, Vybz Kartel
and newcomer
Delus
. You can listen to the
Gangsta
remix on the
OutAroad
music player
However, what we are here to discuss today is the feud between
Mavado
and
Vybz
- is it real or fake?
Gangster lyricist
Adejah Palmer
more popularly known as
Vybz Kartel
was given a rude awakening when his
Honda Accord
motor car was allegedly bombed outside of his plush upper
St Andrew
home in the late hours of Sunday 24th August. According to reports from the area, a motorcycle was heard entering the road on which the Dj lives and moments later an explosion shattered the silence complimented by the sound of the motorcycle speeding off.
When the
OutARoad.com
team arrived on the scene, the charred remains of the car were seen outside the deejay's gate cooling down.
The Dj was not available for comment, but
OutARoad.com
team hopes that he stays safe and that there will be no repeat of this incident.
It is unclear as to what were the motives behind the bombing but
OutAroad.com
will keep you posted as the saga unfolds.
Dancehall artiste Vybz Kartel sent out a press release stating that his car was not fire bombed even though residents strongly believed that it was the act of a motorcyclist who sped from the scene seconds after the car exploded.
However, according to reports from Vybz Kartel, he had no idea of his car being bombed by a motorcyclist. He also mentioned that his Honda had an electrical problem, which might be the caused for the car to explode.
The deejay added that, he has nothing against Mavado and even if Mavado has something against him, it is not evident. Vybz Kartel said he has no time to focus on negative things right now as his focus is 100% about making money - money over war.
All Ele's Children
Elephant Man - File
STAR of the month Elephant man has dispelled rumours of having 27 children and used the opportunity to shed some light on his family life.
Most Jamaican people have heard of his famous 'anaconda' in his songs but they have also heard that Elephant Man has many children. However, he says he has only eight children; scattered in Jamaica and the United States. His youngest child is five years old and the eldest, 10 years old.
When THE STAR asked him about the rumours, he said, "Why dem did seh mi have AIDS? Dat's just people!"
Nonetheless, he says he has a good relationship with his children.
"Dem love give trouble 'cause dem know seh dem father name Elephant. Mi talk to dem every day 'cause de whole a dem have cell phone. Dem mek mi know weh a gwaan wid dem school work," Elephant Man told THE STAR.
Though the children are many, he was unwilling to disclose if he will marry one of his many babymothers.
"Mi nuh have no wife. No sah, mi nuh plan fi get married 'cause mi too young fi dat. When mi 'bout 50 years old, mi think 'bout dat," he said.
-Sadeke Brooks
New 'Bolt Dances' hit the street
Jamaica's Usain Bolt, left, and Asafa Powell celebrate winning the gold in the men's 4x100-metre relay on Friday at the Beijing Olympics in China. - AP
Usain Bolt did some of the latest dance moves while at the Beijing Olympics and to show their appreciation, dancers have created moves to represent the top Jamaican sprinter.
After completing the 100 metre men's finals, Bolt did Ovamar's 'Nuh Linga' and after the 200 metre finals he did Ice's 'Gully Creepa' and Shelly Belly's 'Nineties Rock'.
Upon seeing Bolt's actions, Ice says he was pleased to see the athlete show aspects of the Jamaican culture on the international stage; but more so because Bolt chose to do his dance.
Hence, after only seeing Bolt complete the race, he created the 'Gully Bolt'. It includes Bolt's signature lightening sign, the beating of the chest and Ice mimicking a runner.
"Him (Bolt) do di ting a Beijing but mi notice seh him neva did a deal wid di 'Gully Creepa' di right way so mi jus fix up something fi him," Ice told THE STAR.
Ice is not the only dancer to make a dance for Bolt as Timeless Dancer's Taz created another called 'Lightning Bolt'.
"Wah motivate mi is dat after him win the 100 metre him do 'Nuh Linga' and den when him win 200 metre him do 'Gully Creepa' and 'Nineties Rock'. So mi realise seh dem nuh have no dance fi him so mi seh him need a dance fi himself," Taz said.
In his dance, Taz starts by rotating his hands that are lowered, which is calling the other runners to come forward. Afterwards, he beats his chest with the right hand and then the left. He then extends his risen hands left and right and points to the imaginary scoreboard. In addition, he brushes his hair with both hands as Bolt did prior to the start of the race.
Since creating the dance, Taz says the public has been responding well to it. He says the dance was premiered last Thursday on Hype TV with Elephant Man, who sings songs like Gully Creepa and Nuh Linga. On Saturday it was done at The Gleaner Olympic Party and the Magnum Road show at the Kingston Waterfront. On Sunday it was done at Passion Sundays, which is held at Hillview Avenue.
Like the songs dedicated to Olympians, the dances in tribute to them are likely to pile in.
JA Star/ Debut Album For Buju Banton's Gargamel Music Label
Buju Banton - file
Dancehall up-and-comer New Kidz, the first artiste on international reggae star Buju Banton's independent label, Gargamel Music, will be releasing his new single, Woman, Tuesday, September 2.
The song is the first track from Kidz' yet-to-be titled album, slated for release early next year and will feature some of Jamaica's top producers including John John, Delly Ranx, Laba Laba, Liquid and, of course, the Gargamel production crew.
New Kidz, aka Anthony Bennett, was born and raised in Kingston in a home brimming with the rhythms of his father's sound system. He was drawn very early to a musical path inspiration that would shape his life.
Following a stint as selector, Kidz had collaborations with other dancehall greats including Elephant Man (Wash Out).
After rocking the crowds at some of the hottest Caribbean music festivals including Sting, Fully Loaded, Sumfest and touring for two years as the warm-up act for Buju Banton, Kidz has evolved into an entertainer, songwriter and budding producer, who is honed and ready to take centre stage. He humbly states: "Good music can talk to the people, influence people, teach people. I just want to lift music up ... Trust me. Just give me a listen."
New Kidz is currently in New York for several promotional events and is available for interviews through Thursday, August 28.
The Dutch Accept I-Octane
I-Octane. - file
Conscious singer I-Octane returned home on a high after making good on his first ever European performance at the Sundance Festival in Holland on August 10. The singer was surprised at the response he received from the estimated 30-35,000 patrons as he belted out his popular singles such as Stab Vampire, Poverty and Different Page.
He was surprised by how well they knew his songs. He felt that it was one of his best performances yet and was grateful to perform in front of a huge crowd of caucasians and hearing them singing his songs word for word.
The songs went over so well, that I-Octane found himself performing tracks more than once. When he touched Different Page, in the singers own words, 'It was a different page all together'. He had to do that song three times, before he could eventually satisfy their insatiable appetite for the single.
The singer had every reason to enjoy his first stint in Europe as he was a hot commodity there, doing one interview after another for magazines, radio and television stations. That was not the only thing occupying his time as he was also in demand to do dub plates and specials for various sounds in that part of the world.
I-Octane also did a superb performance in Canada at the Toronto International Music Festival, which took place last weekend at Oakville Italian Garden, Toronto.
The singer is expected to return to the island on Tuesday to shoot the video for his number-one single Different Page.
According to the singer's management company, Arrows Recording, they should have shot the video already, but rain put paid to those plans.

*As America's first black presidential nominee was celebrated at the Democratic National Convention this week, the thoughts of many African Americans turned toward deceased loved ones who did not live to witness it happen.
"It's an incredible time to be around. I wish my momma could have seen this day," said Kanye West to the Associated Press early Thursday before his performance at Bono's ONE campaign party.
West, whose set included "Touch the Sky," "Home" and "Stronger," was also joined on stage by Jamie Foxx to sing "Gold Digger," which the Oscar winner preceded with a shout out to Democratic presidential nominee Barack Obama.
"We make history, man," Foxx told the crowd. "With Obama, we make history. If you ready for Obama, make some noise. Yo man, let's do this for Obama."
West was backed by a band clad in black outfits that were described by the Associated Press as Mad Max-meets-DNC riot police. The Chicago-born artist also sang two new songs he said he'd written in the past several days – both more focused on relationships and heartbreak than politics.
The ONE party also drew such celebs as Forest Whitaker and Ashley Judd, who arrived with Foxx waving an American flag, Pennsylvania Sen. Bob Casey, former Virginia Gov. Mark Warner and former South Dakota Sen. Tom Daschle.
*In her new book, "Keeping the Faith" singer Faith Evans writes of catching rapper Lil Kim red-handed and buck naked in the bed of her husband, the late Christopher "Notorious B.I.G." Wallace.
Evans writes: I don't know what got into my head. But I decided that I needed to know once and for all what Big was really trying to do. On that night before Christmas, I drove to Big's house on a mission to find out where I really stood.
The security guard at the gate just waved me in when I pulled up. It was Christmas Eve and she'd seen me come into the complex with the kids, so I guess she didn't think anything of it. I parked in the rear of Big's town house and walked up to the garage. It was locked. I hadn't been over to Big's house a whole lot but I did know that you jiggle the garage door a certain way and unlock it.
I got into the garage, where there was an elevator that would take me to both floors of Big's duplex. There I was, rocking a black skully cap and a heavy goose-down jacket, tiptoeing into the elevator and pressing the button to go up to the second floor, where his bedroom was located. I got to Big's bedroom door, turned the knob, and went inside. As soon as I saw a small lump next to Big's large frame, I flew into a rage, ran over to the side of the bed, and pulled back the covers. I grabbed some chick out of the bed and started beating her ass. At some point, the chick's wig came off in my hand; it was a short, cropped wig. I stopped throwing punches for a minute to get a good look at the chick I was beating up. It was Lil Kim. She was completely butt-naked, yelling as I pushed her around the room.
"So you not f***king her, right?" I screamed at Big. "Yeah, you not messing with her anymore, right?"
When they heard all the commotion, Cease, D-Roc, and Gutter came running into the room. 'Oh sh**!" they yelled in unison. "It's Faye! How the hell she get in here?"
Big sat up in bed and pointed at Kim, who was standing in a corner of the room, trying to cover her naked body with her hands while I was still yelling at Big. "Yo, get her outta here,' Big said. They led Kim out of the room and she screamed and cursed the whole way.
It was absolutely crazy in that house. Kim was naked and being led somewhere to get dressed. I was still screaming on Big. Damion, Cease, and Gutter were laughing in amazement that I would be so bold. And Big looked like he was just too through with all of us. He sat up in bed shaking his head. Kim left the house and I stayed, talking to Big about why he couldn't be honest with me about her.
"I thought it was all about Tiffany?" I asked. "You still messing with Kim, too?" Big had nothing to say.
I have to say I actually felt some pity for Kim. Big had a wife, and she settled for messing with him. Then he started dating Tiffany and Big had a wife and a mistress. And Kim still settled for being the other other woman. It seemed pretty sad to settle for that.
When I left a few hours later to get the kids, I noticed that Kim had taken my key to my Land Cruiser and scratched up my entire car, from the hood to the back bumper. Even though we ended up having sex that day, at that point I decided I was 100 percent through. I was not going to be a ride or die chick, always going to lengths to show Big how I felt. I was the mother of his child and his wife. But I was going to have to let go.
Kells strikes back in statement saying it's all a lie
*Authorities in South Africa are looking to question R. Kelly regarding a scam in which he allegedly profited $130,000 from a tour despite failing to show up, reports WENN.
Busiswe Zakwe was arrested and charged with swindling thousands of dollars from investors by promising ticket sale profits if they brought an R. Kelly tour to the country in 2005. Kelly never stepped foot in South Africa, but the woman claims she deposited the investors' money into his account.
Local police have reportedly confirmed that the account Zakwe claims is Kelly's is authentic, but the money is nowhere to be found. Police want to question Kelly about the missing funds.
Zakwe has been charged with fraud and is due to appear in a local court on September 10.
UPDATE:
R. Kelly's camp today released the following statement regarding media reports about an alleged South African swindler who used his name to bilk investors.
"There is absolutely no truth to the reports that R. Kelly received money from a South African woman accused of swindling investors by convincing them to invest in a non-existent R. Kelly tour in 2005. Mr. Kelly has no knowledge of this woman, has never received any money from her, and has not been contacted by any law enforcement authorities regarding the matter. He will, of course, cooperate fully with any legitimate investigation of this matter, since he has nothing to hide.
*The woman who accused Miami Heat center Shaquille O'Neal of harassing her has herself been accused of stalking, reports TMZ.com.
Alexis Miller, an Atlanta rapper who goes by MaryJane, got a restraining order against Shaq last week, claiming he threatened her and, among other things, made heavy-breathing phone calls to her.
TMZ said it obtained court papers flied last year by Lakisha Renae Hall in which a judge ordered Miller to stay 500 yards away from her and avoid any contact.
The website also learned that in October 2007, Miller tried getting a restraining order against Jonathan Stubbs, claiming he stalked her -- once pulling out a gun, shooting it once and yelling, "Who were you with?" That petition was dismissed because Miller never followed through.
O.J. PUNCHED OUT BY ARNELLE: Simpsons get into a physical altercation over dad's girlfriend.
*The New York Daily News is reporting that O.J. Simpson was knocked to the ground Sunday by his daughter Arnelle in a tussle over his 32-year-old girlfriend, Christie Prody.
"Arnelle had a fight with Christie over Christie's behavior," a source told the newspaper. "That's what started the whole thing. Christie has some problems with drinking, and Arnelle got mad. O.J. said 'Don't talk to her like that,' and Arnelle pushed him."
According to the source, Arnelle, 39, called 911 in a fit of guilt after she toppled her 61-year-old dad, giving him a minor head injury. The National Enquirer quoted a source saying O.J. was "cut on the back of his head, blood was coming out the side of his mouth and his lip was cut."
Arnelle Simpson
The Enquirer said Arnelle was also upset with O.J. for giving money to Prody, while his high school sweetheart - Arnelle's mom, Marguerite Whitley - has to work at WalMart to make ends meet.
Additionally, Arnelle lashed out at OJ for "ditching" Whitley to marry Nicole Brown Simpson, the Enquirer reported. O.J. was acquitted of Nicole's murder in 1995. Two years later, a civil jury found him "responsible" for the killing.
The police report says the altercation ended when Arnelle agreed to leave O.J.'s house "in order to let things calm down."
MUHAMMAD ALI'S LONGTIME MANAGER DIES: Jabir Herbert Muhammad passed away following heart surgery.
*Jabir Herbert Muhammad, who served as boxer Muhammad Ali's manager for most of his professional career, died on Monday following heart surgery in Chicago, his son told the Associated Press. He was 79.

Marion "Suge" Knight, founder of
recently bankrupt
Death Row Records, was allegedly beating up his girlfriend at 6.30am (Wednesday) when Las Vegas police all of a sudden interrupted. Knight was arrested and charged with battery domestic-violence, assault with a deadly weapon, possession of a controlled substance and possession of dangerous drugs without a prescription, the Associated Press reported.
For someone whose nickname is derived from "Sugar Bear", 43-year-old Knight does not have a very cuddly personal history. He has been jailed for assault on numerous occasions, accused of assault on even more occasions, and Dr Dre himself allegedly has a Protection Order against the hip-hop mogul.
In this case, Knight was discovered in a car park near the Las Vegas Strip, "violently beating" a woman while holding a knife. Though the woman's name and age have not been released, police said she identified herself as Knight's girlfriend of three years. She had not been stabbed but was treated at a hospital for her injuries.
"This is a very large man," Las Vegas police lieutenant Chris Carroll emphasised to journalists. "He was on top of her, actually in the act of violently beating her when the officers arrived, with the knife in his hand."
Police were initially called to the scene due to a minor traffic accident. Knight's car had veered on to the curb after he punched his girlfriend in the head and she "grabbed the steering wheel", police said.
Knight was also found to be in possession of ecstasy and the prescription narcotic Hydrocodone.
Yesterday, Knight paid $19,000 (£8,500) in bail and agreed to appear in Las Vegas Justice Court on September 26 2008.
*Marion "Suge" Knight posted bail and was back on the street Wednesday night after being arrested and jailed for allegedly beating his girlfriend and brandishing a knife near the Las Vegas Strip, reports the AP.
According to a court spokeswoman, the 43-year-old founder of bankrupt Death Row Records posted $19,000 bail and was released with a promise to appear Sept. 26 in Las Vegas Justice Court.
Suge was arrested at about 6:40 a.m. after officers arrived at the scene of a minor traffic accident and found him hitting a woman in a parking lot off a busy thoroughfare.
"This is a very large man," said Las Vegas police Lt. Chris Carroll, estimating his weight at more than twice the woman's. "He was on top of her, actually in the act of violently beating her when the officers arrived, with the knife in his hand."
Knight dropped the folding knife when cops arrived and was taken into custody without incident, Carroll said.
The woman was not stabbed but she was treated at a hospital for injuries that Carroll said were not life-threatening. Police did not release the woman's name or age, but said she identified herself as Knight's girlfriend of three years.
View aerial footage of Suge's arrest
here
.