Could This Be True, Really ?
a few months ago
we covered a story that Michael had made a conversion to Islam
;
on BadGalsRadio. we'll repost that story for the sake of question.
What Do You Think - Is that really Michael Jackson Singing in Arabic ?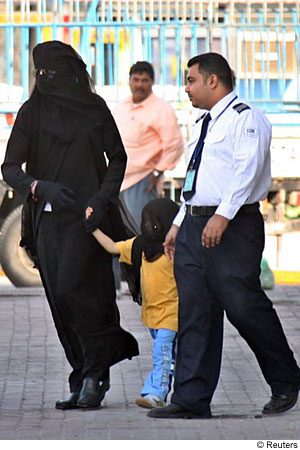 The Report Says his new name is Mikaeel after he rejected Mustafa. Yousef Islam, the former Cat Stephens; witnessed Jackson take shahada, the paper said
DUBAI (AlArabiya.net)
Troubled U.S. star Michael Jackson has converted to Islam and changed his name to Mikaeel, press reports said Friday.
A conversion ceremony was held at a Los Angeles mansion where Jackson was seen wearing 'Islamic garb' and declaring his new faith, British tabloid The Sun quoted an unnamed source as saying.
Jackson reportedly took the shahada—the Islamic declaration of belief—and became a Muslim, just days before he was due in a London court where he is being sued by a Bahraini prince.The paper reported that British singer Yousef Islam—previously known as Cat Stevens before he famously became a Muslim—was also at the ceremony held at the Hollywood Hills home of Toto keyboard player Steve Porcaro, 51, who composed music on Jackson's Thriller album.

Jackson's new name is reportedly Mikaeel after he rejected the name Mustafa, the paper said, adding the decision to convert came about as Jackson was recording a new album.
The former 'King of Pop'—who has been accused and acquitted of child molestation—is back in court after Sheikh Abdullah bin Hamad al-Khalifa, the second son of the king of Bahrain, accused Jackson of owing him $7 million and said the star breached an agreement to record a new album.
Friday, November 21st 2008, 12:26 PM
Jackson/Reuters
Call him Mikaeel? Pop star Michael Jackson has reportedly converted to Islam.
Michael Jackson
has reportedly converted to Islam and changed his name to Mikaeel after one of Allah's angels.
Jackson, 50, who was raised a Jehovah's Witness, was encouraged to convert by his friends Canadian songwriter
David Wharnsby
and producer Phillilp Bubal.
His brother Jermaine Friday, who is Muslim, has also spoken out about Jackson's interest in the religion.
The king of pop pledged allegiance to the Koran in a Shahada ceremony (the Muslim declaration of belief) presided over by an Imam in the
Los Angeles
home of musician
Steve Porcaro
, the
UK
's The Sun is reporting.
"[Wharnsby and Bubal] began talking to [Jackson] about their beliefs, and how they thought they had become better people after they converted. Michael soon began warming to the idea," a source told the Sun.
Cat Stevens
, who famously converted to Islam and now goes by Yousef Islam, was on hand to celebrate Jacko's conversion.
Jackson is currently facing a $7 million lawsuit brought by Bahraini Sheik Abdulla bin Hamad Al Khalifa who is demanding repayment of advances.
---
Jermaine Jackson, is now called Muhammad Abdul Aziz. He talks About Finding Peace and contentment through Islam.
He talks about his feelings for being a Muslim and also expresses his desire for his younger brother Michael Jackson to also become Muslim. Infact, he states in the video that he has given many Islamic books to his brother and that Michael is contemplating becoming a Muslim, inshaAllah. Jermaine also talks about his love for Muslims and his desire to live in Muslim countries. He has found great peace and calm through his Islamic beliefs and love of Allah.He was born December 11, 1954,he is an American Grammy Award-winning singer, bass guitarist, former member of The Jackson 5 and brother of American pop stars Michael Jackson and Janet Jackson. And Most importantly, he is a Muslim.
Jermaine talks about his love of other cultures and people, his reasons for leaving Christianity and becoming Muslim. His devotion to Allah, the great benefits that he gets from praying five times and also from doing optional fasting during the week. He explains how he feels at ease and peace by his Islamic beliefs and his rememberance of Allah.
Jermaine (Muhammad) Jackson, Michael Jackson's Brother
(watchtower information)
According to a report on the Jewish website ynet.com, quoting the Arab-Israeli newspaper Panorama, Michael Jackson is moving from Jehovah's Witness to Muslim:
"The singer said he decided to convert to Islam because he is convinced it is the closest religion to his personal beliefs.
Jackson also noted he intends to soon move all his assets and his studio from the U.S. to Bahrain, and expressed his hope to be rid of various legal troubles and enjoy the kind of freedom he says he does not have in America.
Notably, if the reports are correct Jackson would not be the first member of his family to make the move to Islam. His brother, Jermaine, who moved to the Gulf nation of Dubai, is also a convert.
According to the sources, Jermaine was the one to provide his famous brother with books about Islam and encouraged him to convert. The report says the pop star read the books and even added his comments on some pages.
Jackson was the center of recent controversy after it was reported that he referred to Jews as "leeches" in a phone message to a former business partner.
Referring to Jews, Jackson was heard saying that "they're like leeches…I'm so tired of it…They start out the most popular person in the world, make a lot of money, big house, cars and everything. End up penniless. It is a conspiracy. The Jews do it on purpose.""
His Jewish attorney, Brian Oxman, denied on eurweb.com that Michael Jackson is anti-Semitic :
"I have been with the Jackson family for 15 years, and I'm Jewish. I have never once seen anything anti-Semitic from him or from his family." …Oxman doesn't deny that it's probably Jackson's voice on the tapes, but insists that he has never experienced any anti-Semitism from the singer or any other member of the Jackson family.
Jackson's rep Raymone Bain is also denying that Jackson is anti-Semitic. In a press release e-mailed Wednesday, she wrote:
"Michael Jackson does not have a racist bone in his body. Never would he say anything, or do anything, that would be offensive to any ethnic group, or hurtful to any ethnic group. It is not in his character, or his being. He has spent his entire life reaching out to people throughout the world by spreading love through his music, and his philanthropic efforts. It is unfortunate that these tapes are being disseminated throughout the airways without any due diligence with regards to the authenticity."
An Iranian website reports that Michael Jackson, who recently settled down in Bahrain has donated a huge amount of money for building a state-of-the-art mosque near his luxury palace in the Bahraini capital:
"The proposed mosque would be designated for learning the principles and teachings of Islam, as well as teaching of English language, for which high-standard teachers would be brought from United States under his personal supervision, the spokesman said.
Jackson did so as a token of appreciation to the Bahraini people, who welcomed him and treated him as if he was one of the citizens of their country."
Sources close to Michael Jackson denied the rumours that he was planning to donate money for the building of this mosque according the Bahrain based Gulf Daily News. In the past Michael Jackson donated huge amounts of money for building Watchtower Properties.
Sources: Ynetnews
Gulf Daily News
Iranian Quran News Agency
Eurweb.com