Somehow I never believed that I could write a blog that wouldprovoke such discussion - Between White Folks; About Black folks.
.
DEEP
please take a moment and Go check out this discussion of one of my most recent blogs - ON TOPIX; (the blog is below for your reference)
~RE Ausetkmt - Realities Groups /
BadGalsRadio.com
Jacquline McClelland poses with a photo of her son Brandon McClelland, Friday, Oct. 24, 2008, in Paris, Texas. Brandon, a black man, was on a late-night beer run across state lines to Oklahoma with two white friends last month and ended up dead on a rural Texas road. Authorities say he was run over by a pickup and then dragged as far as 70 feet beneath the truck. Two white men have been charged with murder in the case. (AP Photo/Matt Slocum)
"I truly feel that race played a part in it," said the victim's mother, Jacquline McClelland. "It is a racist town, and Paris has always been a racist town."
The city is perhaps best known for its 70-foot Eiffel Tower replica topped by a giant red cowboy hat. Paris, which is 73 percent white and 22 percent black, was in the news last year after a

black girl was sentenced to up to seven years in a juvenile prison hundreds of miles from her home for shoving a teacher's aide at school, while a white girl was sentenced by the same judge to probation for burning down her parents' house.
At the town square, decorated with pumpkins and hay bales for Halloween, the mother of the black girl said Friday that she began to feel Paris was a racist town after moving there from Oklahoma.
"There's a certain amount of
fear that is pressed into black people when they live in Paris
," said Creola Cotton.
According to court papers, Finley and Charles Ryan Crostley, both 27, told police they left the dry town to get beer in Oklahoma, and on the way back, the three men, all apparently drunk, argued about who was sober enough to drive. McClelland, an unmarried maintenance worker, decided to walk home, taking some beer with him, the men told police.
Finley's estranged wife and one of his friends said they had been told by the two defendants that Finley began to bump McClelland with the front of his truck until McClelland fell, and Finley drove over him, according to court papers. Crostley and Finley then allegedly drove to a car wash to clean off the blood.
Link to the TOPIX Discussions:
"a Blackman's life ain't worth a Whitemans life in Paris Texas".. apparently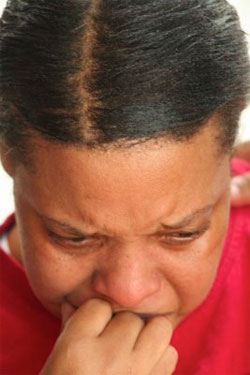 This is the Look of a Mother Who Has Lost a Child.. to Murder, – This is Jacqueline McClelland; the mom of Brandon McClelland who was murdered by these two snots below.
a Blackman's life ain't worth a Whitemans life in Paris Texas. apparently, since the two whitemen who dragged a blackman to death in 2008 were released free. Why ?
we have the first part of this story in an earlier archive and we've linked it in for Here. Please if you have a comment, go by womanist musings and leave a comment about this mess.
"A Black man's life is still not worth a white man's life in Paris, Texas," said activist Anthony Bond. "I am 55 years old and I know racism when I see it. Paris, Texas, is eaten up with racism."
Bond was among 300 people who protested June 8 at the courthouse in Paris after the special prosecutor suddenly dropped murder charges against two white men accused of murdering a Black youth last September.
Above we see the victim Brandon McClelland's Mom - Jacqueline McClelland, as she speaks to a rally at the courthouse. She is surrounded by members of the New Black Panther Party, Nation of Islam, Tarrant County Local Organizing Committee and the NAACP.The New Black Panther Party, the Nation of Islam and Concerned Citizens for Racial Equality organized the rally.
Brandon McClelland's mangled body was found on Sept. 16, 2008, on a country road. Authorities estimated that it had been dragged more than 70 feet.
McClelland's family and members of the Black community who attended the protest stressed that the dismissals were the real injustice, and another example of racial inequality in Paris, a town with a long history of violent racism.
Shannon Finley and Charles Crostley, the two white men who had been arrested for McClelland's murder, walked out of jail on June 4 with no restrictions.
At the courthouse rally, where a monument to the Confederacy dominates the lawn, McClelland's mother and father spoke to the crowd through tears. Jackie McClelland said the dropped charges show that the justice system treats Blacks and whites in Paris unequally.
"I said from the start they were going to sweep this under the rug," she said. "And nine months later, that's exactly what happened. This was a hate crime. We couldn't even have an open casket for my son."
"What if it was your son? Would you fight for your kid?" said Bobby McCleary, McClelland's father. "I miss that one word my son used to say: Pops. He didn't call me Dad. He called me Pops."
Rock Banks, who said he was a "grand titan" in the East Texas Ku Klux Klan, angered the crowd during the rally. He held up a small patch displaying a Nazi-era Iron Cross. After a near confrontation, he was forced to leave.
Activists vowed to get the Department of Justice to take an interest in the case. They have begun writing letters to the White House and Attorney General Eric Holder. "It's going to be a huge campaign to get the attorney general involved," said Deric Muhammad of the Nation of Islam in Houston. "They released two killers on a maybe. They released two killers on a might be. They released two killers on an if."
The district attorney released Finley and Crostley after defense attorneys suddenly produced a truck driver who said he may have accidentally hit McClelland. The district attorney had given the truck driver immunity for his statement.
Protesters carried signs saying, "We Want Justice," and "Where is the Justice for Brandon?" Using a bullhorn, organizers led chants of "Black Power," and "No Justice, No Peace."
A national rally to protest the dragging death of McClelland is planned for July 21, the day that the murder trial had been scheduled to begin.
Paris also made national news in 2007 when an African-American student, Shaquanda Cotton, was sentenced to seven years in a Texas Youth Commission jail for pushing a teacher's aide. Months earlier, the same judge had given a white teen probation for burning her family's house down.
Cotton was finally freed after a national campaign on her behalf.
Paris is located in East Texas, known for its long history of racism and Ku Klux Klan activities. In 1998 another Black man, James Byrd Jr., was dragged to death in Jasper, 200 miles south of Paris.
According to the Dallas Morning News, Paris was the site of one of the country's most notorious "spectacle" lynchings in 1893, when 10,000 people gathered to watch the torture and burning of Henry Smith, a Black man who was accused of killing the 3-year-old daughter of a white policeman.
Smith had fled to a small town near Hope, Ark., but was caught and brought back to Paris by train. Word traveled that he had been brought back and spectators came from miles around, using "special excursion trains" to travel from Dallas.
Smith was placed on top of a wagon and paraded around the town square, then taken to a prairie south of the Texas & Pacific railroad depot, where scaffolding had been built for the occasion.
Ida B. Wells cited this case in "The Red Record: Tabulated Statistics and Alleged Causes of Lynching in the United States," printed in 1895, which documented her research on and campaign against lynching.
Three decades later, in 1920, a Paris mob killed brothers Herman and Irving Arthur, Black sharecroppers, who were accused of killing their white landlords.
The brothers, who claimed self-defense, were taken from the Lamar County Jail to the fairgrounds where, according to the Dallas Morning News, they were chained to a flagpole and burned. The mob then dragged their bodies through the Black neighborhood of Paris.
New Black Panther Party organizer Sister Krystal Muhammad told Workers World the group is getting endorsers and organizing around the state for the demonstration on July 21. "We will not stop organizing until there is justice for Brandon. Racist murderers cannot be allowed to kill with impunity!"
---
Articles copyright 1995-2009 Workers World. Verbatim copying and distribution of this entire article is permitted in any medium without royalty provided this notice is preserved.