It's Saturday and we don't slack on the BS on Saturdays, so today is no exception - except we get Intercontinental with the Ish..
There are Things Everybody should Get, and this is one he needs.. read on,
By Durty Mo
KNOXVILLE, Tenn. (WVLT) -- On paper, he has 20 possibly 21 children.
With a minimum wage job, he can't afford to support them all.What is the state to do?
Desmond Hatchett, 29, told WVLT he wasn't out to set a record, though he certainly holds it in Knox County Juvenile Child Support Court.
Hatchett's children range in age from newborn 11.
There are at least 11 mothers; probably several more.
Constitutionally, there is nothing the state can do to limit him from having more.
"I had four kids in the same year. Twice." Desmond Hatchett told Volunteer TV.
On Friday, his name appeared on the docket 11 times; Representing about 15 of his 21 children.
"Can you keep up with it all?" WVLT asked Hatchett.
"Yeah," he said.
"You know all their names, and ages and birthdays?"
"Yeah."
Hatchett's name is pretty controversial at the old courthouse.
"The children can't be supported all by Desmond, so the state of Tennessee has had to step in," Hatchett's attorney Keith Pope said.
It's your tax dollars at work.
WVLT spoke with one mom who has two children with Hatchett.
She is supposed to get $67.50 a month. But many times, she gets a lot less than what she's owed.
They all do.
"It'll make it through half the month," the unidentified mom said.
She told Volunteer TV, Hatchett is the father of her two sons. And she says her 4-year-old is expensive enough on his own. "He's a heavy milk drinker. And milk is not cheap," she said.
"It's frustrating, but usually, when I ask he give it to me," she continued.
It's due process-- the state is only allowed to take 50% of Hatchett's paycheck.
That's 50% split multiple times.
"You look at when they filed, how many children they have-- he has several mothers that he has two children with. And, it's tough" Pope explained.
Still, Hatchett says the women knew what they were getting into.
They were all aware of his large family.
One said, she doesn't like it but she deals with it. "It's about the kids. Not the parents," she said.
Hatchett agrees he should do what's best for the kids.

"Do you intend to keep having children?" WVLT asked.

"No." Hatchett replied.

"You're done?"

"I'm done. I'll say I'm done."

"What made you say that?"

"I didn't intend to have this many. It just happened," Hatchett said.
Desmond Hatchett spent part of Friday afternoon jailed while a child support referee decided how to split up the $400 he brought to court.
If he doesn't pay what he owes, he will go back to jail because he is on an automatic jail order.
The mothers of Hatchett's children are supposed to get anywhere from $25 to $309 a month, but when his paycheck is garnished amongst them all, some women only get a $1.98 a month.
I'm sure the babymommas would take a few of them checks and invest in this lil handy dandy appliance for the Bonus BabyDaddy. No Doubt, He Needs It.
By Durty Mo
The Mastronzo is a metal penis plug with a flexible segment in the middle for more comfortable, ergonomic wear. Attached to the end of the plug are a small ring, linkage, and head ring with ball designed to fit around the corona of the penis. The head ring works like a captured ball body piercing ring and is therefore removable.
Insertable length is 80mm (about 3 1/4") and insertable diameter is 8mm (about 5/16").
The head ring is available in a 30mm (1 3/16") diameter.
Nuff Said..
We've been covering the stories on Albino and Kidnapping in East Africa for quite a while, but this seems to be reaching a new peak.


So Once Again We Ask - How Long must this BS Go On ?
Witnesses testify in albino trial
Many people with albinism are living in fear in Burundi
Witnesses have testified in the case of 11 men in Burundi, accused of the attempted murder of albino people and selling of their body parts.
Initial charges of murder have been dropped because the prosecution failed to produce enough evidence.
Police suspect the body parts are being sold in neighbouring Tanzania, for use in witchcraft.
Forty-six albino people have been murdered in Tanzania in the past 18 months, but no-one has been convicted.
But the violence against albinos is not restricted to Tanzania; last November a
six-year-old albino girl in Burundi was found dead with her head and limbs removed. 'Desecrating graves'
Thursday's hearing in the eastern province of Ruyigi, near the Tanzanian border, has generated a great deal of interest.
Witnesses travelled from the remote north-east of Burundi to give testimony linking one of the defendants with the killers of a married man with albinism whose body parts were allegedly taken to Tanzania.
The case began last week, but had to be adjourned after witnesses failed to show up.
The BBC's Prime Ndikumagenge says the courtroom is so crammed many people are waiting outside to hear details of the evidence second hand.
Our reporter says eight of the accused allegedly helped traffic albino body parts and desecrated a graveyard to take the parts of someone who was buried.
The rest of the defendants are accused of attempting to kill an albino child. The accused deny the charges.
Witchdoctors in the region are known to tell clients that potions made with albino body parts will bring them luck in love, life and business.
BBC East Africa correspondent Will Ross says Tanzania's government has promised action and the fact that there have been no reported attacks or murders of albinos for two months in Tanzania provides some hope.
Hundreds of people including witchdoctors and business people have been arrested but the justice system in Tanzania is notoriously slow and corrupt and so far nobody has been convicted, he says.
Albinism affects one in 20,000 people worldwide, but in Tanzania the prevalence appears to be much higher.
The Albino Association of Tanzania says that although just 4,000 albinos are officially registered in the country, they believe the actual number could be as high as 173,000. A census is now under way to try to verify the figures
(end of bbcnews clipping)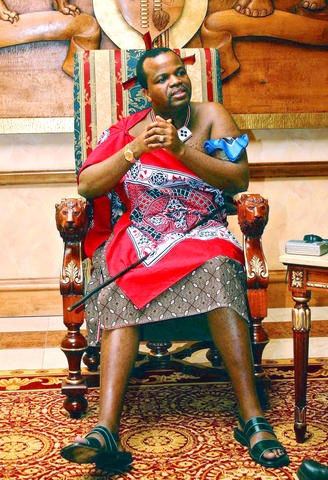 And in Swaziland the Stupidity just gets deeper, each year. this year we have some absolute idiocy.

Brand AIDS on Those Infected with the disease ?

you must be kidding, because I think the person who would likely first need to be tattooed would be the stupid kingpimple mswati mcshitty.

and you think you've got it bad in the west, please..


This Bitch is King.
Swazi politician Timothy Myeni calls for HIV buttock branding
May 27, 2009 01:01pm
SWAZI residents have been asked to debate a politician's call for HIV positive citizens to be branded on the buttocks.
The
Times of Swaziland
asked for feedback on best ways to combat HIV and rights to freedom of speech after Timothy Myeni told fellow politicians that all Swazis should be tested for HIV and their backsides marked if infected.
"I have a solution to this virus. The solution will come from a law that will make it compulsory to test for HIV. Once you test positive, you should be branded on the buttocks," the member of parliament said last week.
"Before having sex with anyone, people will then check the buttocks of their partners before proceeding with their mission," the newspaper reported him saying.
Landlocked Swaziland is one of the world's poorest nations with the highest HIV prevalence in the world under the rule of Africa's last absolute monarch King Mswati III.
Miyeni, who leads a popular gospel group, has stuck to his call for compulsory HIV testing but apologised for the buttocks branding suggestion.
"I am very sorry for saying HIV positive people should be branded, I did not know it would turn out like this. I have seen that the suggestion was very offensive and many think I was discriminating, so I withdraw my statement," he said last week.
Reader responses will be published in the
Times of Swaziland
next Tuesday, the newspaper said in its online edition.
A proposal to brand the buttocks of people suffering from HIV has caused outrage in a country ravaged by the disease.
Swaziland MP Timothy Myeni suggested making HIV tests compulsory for every person in the southern African state and then forcing those who were infected to be permanently marked with a warning logo.
Mr Myeni claimed the scheme would help stop the spread of the killer disease by reducing sexual activity between HIV positive people and uninfected partners.
Speaking at a workshop for MPs on how to tackle the AIDS epidemic, he added: 'Before having sex with anyone, people will have to check their partners' buttocks before proceeding,'
Campaigners furiously criticised the idea.
Swazi AIDS campaigner Siphiwe Hlophe said the system would contravene human rights laws.
She said: 'How can a legislator lobby for the branding of HIV positive people?
'We do not need legislators who think like him because some of the people who voted for him could be positive, why is he then discriminating them?
'He must stop lobbying his colleagues for such but instead call for them to stop discriminating positive people.'
Swaziland Aids Support Organisation spokesman Vusi Matsebula added: 'His utterances represent the views of someone who is still sleeping around.
'Maybe the branding will help him know what kind of a person he is about to sleep with.'
Swaziland has the highest HIV infection rate in the world, with around 43 percent of the population believed to be living with the disease.
The tiny landlocked southern African kingdom has previously been criticised for its failure to tackle the condition.
In 2001 Swaziland's king Maswati III was accused of dangerous double standards over HIV.

The monarch, who has at least 17 wives, urged Swazi teens to wait until their twenties before having sex and then publicly selected a 17-year-old girl as his latest bride.
And just incase you missed it, the police and others can now FORCIBLY Take and Retain YOUR DNA.. Yeaaahh.. how uncool is that. they strap you in for a strip down, all the way down baby.
In the first case of its type, a federal judge in California has ruled that police can forcibly take DNA samples, including drawing blood with a needle, from Americans who have been arrested but not convicted of a crime.
U.S. Magistrate Judge
Gregory Hollows
ruled on Thursday that a federal law allowing DNA samples upon arrest for a felony was constitutional and did not violate the Fourth Amendment's
prohibition
of "unreasonable searches and seizures."
Hollows, who was appointed by President George H.W. Bush, said the procedure was no more invasive or worrisome than fingerprinting or a photograph. "The court agrees that DNA sampling is analogous to taking fingerprints as part of the routine booking process upon arrest," he wrote, calling it "a law enforcement tool that is a technological progression from photographs and fingerprints."
"The invasiveness of DNA testing is minimal," Hollows wrote (
PDF
). "The DNA can be taken by an oral swab, and even blood tests have been held to be a minimal intrusion."
"We are very gratified with the ruling,"
Lawrence Brown
, acting U.S. attorney for the Eastern District of California, said in a statement. It also said that the U.S. Department of Justice "exercised its authority under the statute earlier this year and issued direction to various federal agencies to begin collecting the DNA of individuals who are arrested or facing charges, as has historically been the case with the collection of fingerprints."
A
bill
that President Bush signed in January 2006 said any federal police agency could "collect DNA samples from individuals who are arrested." Anyone who fails to cooperate is, under
federal law
, guilty of an additional crime.
In addition, federal law and subsequent
regulations
from the Department of Justice authorize any means "reasonably necessary to detain, restrain, and collect a DNA sample from an individual who refuses to cooperate in the collection of the sample." The cheek swab or blood tests can be outsourced to "private entities."
While other courts have ruled on the constitutionality of DNA sampling
after
conviction, this is the first case to deal with defendants who have only been accused of a crime. (The 9th Circuit, in
U.S. v. Kincade (PDF)
, ruled that mandatory DNA testing of violent convicted felons on supervised release was constitutional; a dissent by Judge Alex Kozinski said that same logic could lead to mandatory testing of every American citizen: "The more DNA samples are included in the database, the better off we are: More guilty parties will be found, more innocents will be cleared and more unknown crime victims will be identified...")
The defendant in the current case in California, Jerry Albert Pool, is accused of possessing child pornography in the form of illegal images of minors on his computer, a felony. He has no prior criminal record and has pleaded not guilty.
(to read the rest of the really great article click here)
Okies That's A Wrap.
Now Leave A Comment, We Get Worried

when You're Quiet..