Congratulations to Cherine Anderson on winning Vocalist of the Year
Cherine
"Vocalist of the Year 2009"
Kingston, Jamaica - 02/08/2010 -
Singer/Songwriter

Cherine

(Anderson) was recognized with the "Vocalist of the Year 2009" award at the 6th Annual Excellence in Music and Entertainment Award ceremony in Kingston, Jamaica on Thursday, February 4, 2010. This marks Cherine's second EME award win and fifth nomination.
When asked how she felt about her win, she responded, "I feel honored to have won this award and really want to thank all who voted for me. It does feel good to be recognized for your work.My team Zlink Entertainment and I have put in a lot of hard work over the last year and it feels like everything is coming together. This award is really encouraging to me.I think people are beginning to understand me more as an artist, and that's all that I could ever ask for."
A stunning Cherine took to the stage in tribute to Studio One and ignited the crowd with her soulful voice singing a rendition of the Studio One classic "The First Cut is the Deepest". Cherine made an instant connection as she walked into the audience and performed up close and personal to their delight. "It was so much fun. I didn't feel pressured to sing the tune any particular way, so I just made it my own and I think the audience appreciated it."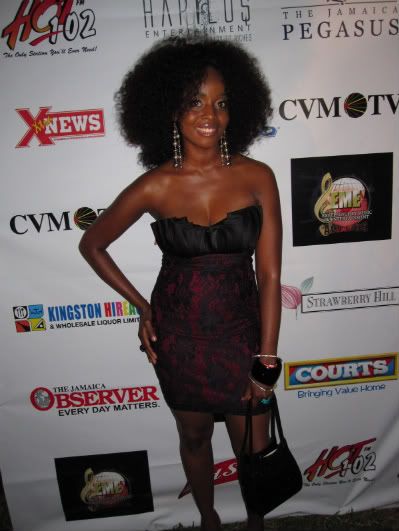 Cherine's Voice is wonderful. some of you who listen to the RawRootsPodcast and BadGalsRadio; have heard her on lots of tracks. we did a special remix of Cherine's Kingston State of Mind. if you like reggae and roots, you'll love our remix.
This is an exclusive from BadGalsCrates Only [Play]

Watch the video and listen to our track and you will notice the immediate differences. we gave the tune to the taxi twins last year and they are holding it in their safe. "it deh, put up like cook food, safe." this is the first track from my upcoming CD. yes for those of you who don't know, I'm expanding my music career into my studio career. it's exposing me to artists who I am mixing and re-mixing. the sticky thing is that these tunes are great already, but with my simple touches, they explode. dancehall riddims from the BadGal - Mama ASID Mi Seh !
in a few weeks We'll be introducing our newest product "The Going Home Project". our first totally digital project and to be honest, our most difficult. being in the music business on the business side is really a difficult job right now. which is probably why I don't talk about it here on the blog. we've have seen so much red ink lately that the whole concept of what we do has changed 180 degrees. these days we're truly in a Kingston State of Mind. this tune by the way was done two years ago. Cherine won so we thought we'd celebrate and share it with you - our listeners, and friends. we'll be playing an hour of Cherine on BadGalsRadio starting this friday nite. she will be this weeks Top Star. If you like Cherine be sure to
tune in to BadGalsRadio.com 24/7.
Inna Raggamuffin Style,