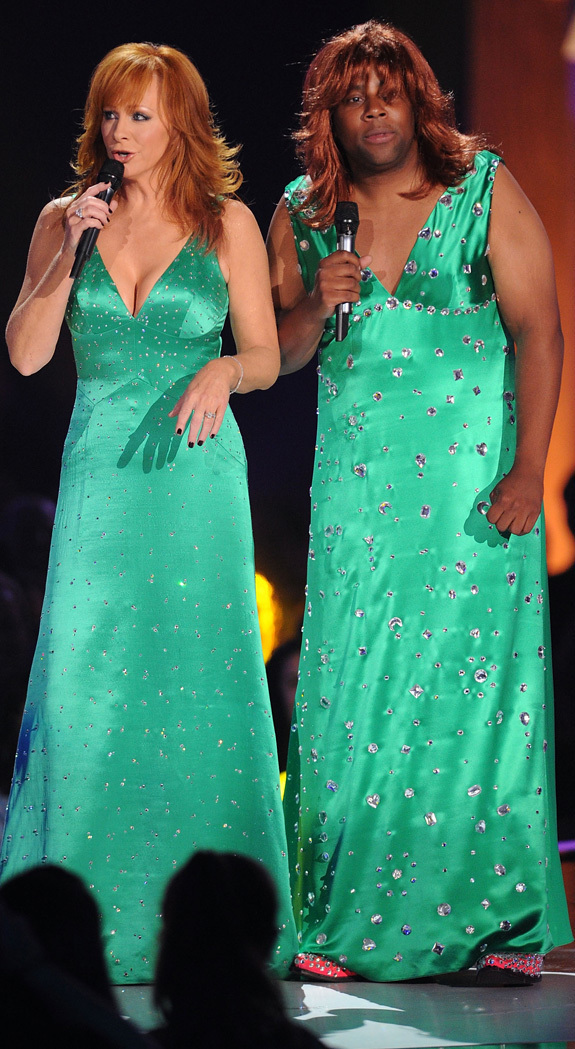 Well lo and behold, there they were side by side at the CMA's.
Can You Say Howdy Do Ms. Reba !
Some of you may remember a few months back when we posted Keenan Thompson from SNL in a skit as Reba.McEntire with Andy Sandberg. it gained instant cult status. it was one of the only things produced that season of any real comedic value. even if it was at the expense of Reba, who is a Queen. (side-eye) Hey don't get it twisted, I'm Talking about the Real Reba, not the one who's lettin her... anyway,
"Reba from Haystacks to Maybachs, Our Love Will Survive"
Kenan Thompson showed up at the CMT Awards Wednesday night dressed up as Reba McEntire, who he has played on SNL. Then Reba walked out in the same outfit and asked, "Aren't you embarrassed of yourself?"
"Yeah I'm embarrassed," he replied. "I'm embarrassed that someone showed up in the same dress as me."

"You can't be Reba, you're too dark," she said.

"Um, pardon?"

"I'm ginger with highlights," Reba exclaimed, "And you're a solid auburn!"
I'm Through with all of this,
Loading image
Click anywhere to cancel