Lets catch up on a lil Jamaican news, courtesy of our friends at the Jamaica Star.
CUSTOMS SEIZE BARRELFUL OF MONEY
Man flees after container opened
It was quite a scene yesterday at the Customs Department in Kingston after a man turned up to clear a barrel which contained almost US$50,000.
Efforts to get an official comment from the department were unsuccessful however, a policeman who was on hand as the incident unfolded related the story to THE STAR.
Reports are that an unidentified man visited the compound with the aim of clearing a barrel which was shipped from overseas.
A broker attended to the customer and located the barrel which was then opened.
To their surprise, the money was found.
An alarm was raised and the man who had turned up for the barrel fled the scene.
this is what we expect the Duppy Conqueror will look like - a fierce warrior
DUPPY STALKS RESIDENTS FOR MONEY
Residents of the small district of Lilly Grove, St Mary, are living in fear. They said the

ghost

of a woman who ran a partner plan has being beating members of the community who allegedly owed her money
.
The residents said they will be seeking the services of a '
duppy conqueror
' next week as they try to get rid of the ghost which has been haunting them for more than two weeks.
THE WEEKEND STAR
first got wind of the ghost tale earlier this week during a check with the Area Two police.
pardna (partner) money
A police source questioned one of our
reporters
: "Unnu nuh hear bout di duppy woman weh a haunt di people dem fi har pardna (partner) money?"
Although
THE WEEKEND STAR
did not visit the community, conversations with the residents were enough to send chills up anyone's spine.
"A firs' me a hear or si nuttin like dis, duppy a haunt people fi money ... . People all a get box up and dem sinting deh," one resident, Tallis said before noting that at least three persons have fled the district since the ghost started terrorising them.
"A bout a month now Mistress Campbell a walk eno ... . People get beaten, people who did owe har all a run weh cause dem a seh dem cyaa live in peace," another resident Harry claimed.
Residents said the ghost is that of Josephine Campbell, an
elderly
woman who recently fell ill and passed away. She had operated a partner plan and since her death, the persons who are said to have owed her money are being haunted.
during a dream
One of the persons who left the community first claimed that during a dream, the 'partna woman' had instructed her to have the owed money ready whenever she returned for a visit.
When the resident related the dream, it was taken for a joke but only a few days later she was attacked and beaten by the ghost.
Within the next few days, other persons were said to have been assaulted by the duppy, which is said to carry out her assaults at any time of the day.
"Day or night it no matta, da woman ya want har money, suh she cum roun any time," Devon, another resident said.
In addition to the incidents of beating, the residents said that branches and the leaves of
trees
sway as if they are being blown by strong winds whenever Mistress Campbell is around. In addition there are strange noises and the sounds of loud knocking on
house
tops.
Efforts by
THE WEEKEND STAR
to speak with the 'duppy conqueror', who the residents claim to have summoned were unsuccessful as a number provided rang without answer.
Constable pleads guilty to ganja charge
Tashieka Mair, Star Writer
WESTERN BUREAU
A district constable who spent more than two months in custody, and was scheduled to face trial for ganja possession charges, was fined after he pleaded guilty in the Montego Bay
Resident Magistrate's Court.
Jonathan Wright, a 50-year-old district constable for the past three years, had the dealing in ganja charge withdrawn and a fine of $2,000 or 30 days imposed.
When the matter came before Resident Magistrate Viviene Harris, only one witness turned up for trial. However, the matter was disposed of after Wright took the decision to plead guilty.
contraband
The officer, who worked at the Freeport police station at the time of his arrest, was charged after he was found in possession of the contraband.
Allegations are that on February 2, the investigating officer, an inspector, was given instruction by a senior officer to search Wright, who was on the cell block at the time. During the search, cigarettes, rizzla and lighters were found in a bag that Wright was carrying.
The inspector also observed a bulge in Wright's pants, which turned out to be a parcel of ganja weighing four ounces.
Jamaican Police seek to dispel corrupt reputation - They Are Gay,
the article never mentions the Gay cop or the Gay or Sex Problems - we added them where appropriate.
Assistant Commissioner of Police, Novelette Grant, is seeking the help of the media and other influential groups to build police-citizen rapport and dispel the perception that most members of the Jamaica Constabulary Force (JCF) are corrupt. (gay)
She said the perception that the police are corrupt is being fuelled by the media and other sources, rather than personal experiences of corruption involving the police. She added that the perception that there is an antagonistic relationship between the police and communities is also a myth.
research
Grant's comments are supported by recent data gathered by a team of researchers involved in the Latin American Public Opinion Project. The study titled, 'Political Culture in Jamaica, 2008', has shown that the actual relationship between citizens and the police is not as negative as perceived and portrayed.
abusive enemies
The study, which was funded by the United States Agency for International Development (USAID), was unveiled on tuesday, at the Knutsford Court Hotel, in Kingston, at a forum (trist in room 369) which brought together several stakeholders to discuss the findings.
The study revealed that 85.1 per cent of participants in the survey saw the police as helpful friends, while only 14.9 per cent saw them as abusive enemies. In addition, three out of four felt they and the police had a shared interest (gay sex).
More than 90 per cent of Jamaicans felt that working with the police would make a difference in crime fighting and more than 67 per cent indicated that they would be willing to collaborate with the police to solve crime. Ten per cent said they would be very hesitant to help the police, while 22.3 per cent said they would be somewhat hesitant.
negative perceptions
The survey, which is part of the Americas Barometer series, found that young people were much more suspicious of the intentions of the police, especially those under age 25. Persons who reported having been (sexually) victimised by the police were also more likely to have negative perceptions of the police's intentions and actions in their interactions with the community.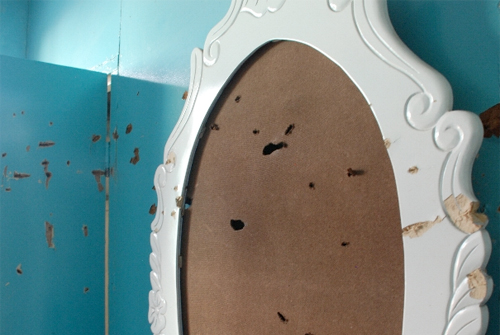 A Mirror on the wall in a home in seaview gardens shows war scars
SEAVIEW WAR STARTS AGAIN - Battle lines drawn in community
The fears of residents from Seaview Gardens, St Andrew, have been renewed as thugs from two sections of the community have imposed a 'do-not-trespass' order on each other.
THE STAR has learnt that a gully which parts the two areas, 'Marley' and 'Nitty Gritty', is being used as a 'borderline', while thugs urge that nobody from either side crosses or guns will blaze.
Both sides have been at odds for many years now.
On Monday, four men were shot, two fatally by gunmen who opened fire as the group sat in an abandoned building in Nitty Gritty.
suspected gunmen
The dead men have been identified as 21-year-old Sheldon 'Chiggy' Grandison and Corniel Gilroy, 28, both of Phase 2 in the community.
Sources within the community told THE STAR that the suspected gunmen were not from Marley, but from another area with which men from Nitty Gritty are also at odds.
Subsequently, men from Nitty Gritty urged men from Marley to be careful as to who comes through their area and to prohibit the crossing of the gully into Nitty Gritty.
Likewise, men from Marley relayed similar orders to those from Nitty Gritty.
The situation has now incited fears among residents of the whole community and not just Marley and Nitty Gritty as a woman who is said to have violated the orders and ventured across the gully into Nitty Gritty was reportedly shot and injured yesterday.
"A long time di two set a man dem nuh kick off eno and wi cyaa deal wid it now cause if it start, it might spread through di whole a Seaview," a 34-year-old resident who requested anonymity said.
His views on the situation were similar to those of others from the community with whom THE STAR spoke.
"A long time nuh war nuh gwaan a Seaview eno... . Wi know seh wen dem start, dem can gwaan wicked so wi nuh want it," another resident added.
The police say they are keeping a close watch on the community and will be increasing their presence in an effort to restore normality.
this is of course Jamaican MP Olivia Babsy Grange
we are not saying she is A DON;
butterah she's not denying it.
DON WOMAN RULES RESIDENTS
Residents of Bailey Hill, a small community in Westmoreland, are both fearful and respectful of their new don.
This may seem like nothing new, but this don is far from ordinary. This community is governed by a 30-something-year-old woman.
The woman, though dubbed the peacekeeper in the community is feared by many and her donship tactics make hot topics.
Although THE WEEKEND STAR did not get the chance to speak with the woman, tales from residents help to paint the picture of a no-nonsense woman who knows no limit in governing her community.
bad like AIDS
"Da woman deh nuh play man, she bad like AIDS ... A she run di place and she nuh tek foolishness from nobody, whether man or woman
," one resident, 24-year-old Lion Man, said.
THE WEEKEND STAR heard that the woman was elected to rule the community after her cousin, the former don, lost his battle with cancer almost six months ago.
Since then, she has been making her voice heard, and on a number of occasions has made her presence felt.
According to residents, both men and women have felt her wrath whenever they violate the normal operations.
An action by a resident, such as bringing police attention to the community, is considered a violation.
Consequences for violations vary, but in most cases, they say, beatings and broken limbs are ordered while others are dealt with in rather creative ways or simply told to leave.
"
A whole heap a hand and foot broke roun ya man ... Yu nuh hear mi seh she nuh play wid people ... From yu go round di ting yu a go feel it," another resident, Fred, explained. "Yu have man who thief and dem ting deh a dem man deh get broke up ... Other people who might gi likkle trouble wi get some different punishment though ... People get all tie up pon tree and lef whole day ... If a nuh none a dem deh den yu jus affi leave.
"
These harsh measures, residents agree, are aimed at keeping a peaceful community.
Meanwhile, the Area One police say they have heard about the woman but are yet to come in contact with her.
"
Well, we have heard of her but that's as far as it goes ... We really are not interested in any form of don so that's as far as it goes ... As for her trying to keep the peace we have to commend that
," Inspector Vernon Hall told THE WEEKEND STAR.
Names changed on request
DIRTY WEB PAGE TARGETS STUDENTS - Describes their sexual exploits at UWI
The University Guild of Students and the principal of the University of the West Indies (UWI), Mona campus, are expected to discuss in a meeting today a controversial web page that was created on Facebook describing the sexual exploits of several present and past students.
The web page, which went up on Easter Sunday, bore more than 50 photos of persons from UWI along with rather slanderous information/comments about the individuals.
closed by a hacker
It was forcibly closed by a hacker on Tuesday who was apparently one of the persons listed in the group. When it was closed down there were photos posted of persons mainly residing on the Chancellor and Rex Nettleford Halls. On Tuesday, the site was re-launched and was hacked into again by another individual who was also listed on the site.
On the site, the persons being slandered were listed as 'whores of the past', 'current whores' and more. Information posted ranged from allegations of extensive promiscuity among females, abortion, or as it was posted 'dash whe belly' and homosexuality, womanising ways and the granting of questionable sexual favours to females, on the part of the targeted males. There were also postings about males who boasted rather small private members.
buzz in cyberspace
One of the programmers who shut down the page by hacking into Facebook said it was creating quite a buzz in cyberspace with membership and viewers soaring to over 200 in a matter of hours.
The computer whiz said after hacking into the site and shutting it down, he got a hold of an email address that seemed to have belonged to the original creator of the troublesome group.
"I got an Internet Protocol (IP) address through that email and it traced back to UWI Mona campus. So whoever created the group did so from that location," he said. "I have not pinpointed who it is exactly or which of the halls that person is from but I'm still looking into it."
The hacker said that when he deleted the group on Tuesday, there were approximately 70 photos posted of people who were both past and present students and users were leaving nasty comments left, right and centre.
"I deleted the photos because a lot of those people are working professionals now. They have their careers and are settled and that stuff could be damaging for them," the hacker said.
Vishwanauth Tolan, newly elected guild president, said they are aware of the situation and termed it as very childish and irresponsible. The guild president said while they have not confirmed that an actual UWI students created the group, nonetheless, it was very disappointing and damaging for both the persons slandered and the university's image.
"We are going to make a statement to our students about the situation before the week ends," Tolan said. He said that the guild would play its part in assisting the administration and any other authority that may be brought in to investigate the matter.
Tolan continued that if it is confirmed that the perpetrators are indeed students, the guild constitution also allows for them to be barred from all guild services and activities, including the bus service and the UWI Student's Union. The UWI Administration may also enforce further penalties.
Jamaicas' Broadcast Commission requests better measures to block minors from X- and A-rated channels
The Broadcasting Commis-sion (BC) yesterday issued a circular requesting that all subscriber television licensees (STV) implement measures to prevent minors and others from gaining unintended access to X and A rated channels.
The commission also confirmed reports that some of the methods currently being used have proven inefficient and children sometimes do gain access to these adult channels.
STV operators have been ordered to implement the following procedures:
1. A-rated channels like the dancehall channel and X-rated channels like Playboy must not be packaged with any other channels.
2. Persons must not be given X- and A-rated channels automatically but must first be instructed on how to enter a personal code to protect the content from un-authorised access by minors or other members of the household not wishing to gain access to the content. Verifiable records should be maintained within the premises of the licensees that such instructions had been provided.
3. Only the registered owner of the main cable account should be allowed to authorise the activation of access to A-rated and X-rated channels.
4. Operators whose systems are affected by the loss of encryption to X-rated channels, as described above, are required to conduct an investigation and address this problem immediately.
STV operators are required to take the steps to implement these procedures immediately, and implementation is to be complete by June 1.
The measures are intended to ensure the protection of children and other persons who may gain accidental, unwanted or unauthorised access to these classifications of programming.
This move by the commission follows a number of similar moves to protect minors and to improve service delivery and quality in the broadcasting sector.
this is Sean Paul, and we know this story is not about him.
but he is fine as hell so we wanted to show you how fine he is.
now back to the story.

Computer programmer sentenced for ganja
Tashieka Mair, Star Writer
WESTERN BUREAU:
A computer programmer who was caught trafficking 94 pounds of ganja in a car he had rented, was sentenced to 30 days at hard labour and fined over half a million dollars when he appeared before the Montego Bay Resident Magistrate's Court yesterday.
pleaded guilty
Clarence Howard of Kent Avenue, St Catherine, was sentenced after pleading guilty to possession, dealing in and trafficking ganja.
Defence attorney Adrian Dayes pleaded with Resident Magistrate Viviene Harris to consider a non-custodial sentence for the accused claiming that his client 'embarked on a venture that would put him in better financial standing' as he was faced with some outstanding debts. He also asked the RM to be lenient for the sake of Howard's four children who are all minors.
searched
However, RM Harris said she did not hear any arguments in the mitigation plea that could persuade her not to send the accused to prison. however, she lowered the custodial sentence and increased the fines to show her displeasure of the accused man's actions.
He was fined $15,000 or three months for possession, $150,000 or six months for dealing and $350,000 or six months for trafficking ganja.
The facts are that on April 17 about 11 p.m, the police stopped a car being driven by the accused along the Montpelier main road. The car was searched and the ganja found in the trunk.