Today is National Homeless Persons Memorial Day - we choose Invisible People Tv to speak for us today.
We know that you don't like the Homelessness in America, so we ask you to Remind Your Legislators that Today Homelessness Needs to End.
Lastweek we saw rich dc politicians arguing about a tax bill for the 99ers' and families which recently lost their only income - Unemployment Benefits. They are arguing about helping Feed America, and Give it a Home - after these very same Americans Paid Taxes. How can you deny a person help when they've paid taxes ?
Isn't it time we asked our Rich Politicans How They Do That ?
The real american version of the tax incentive bill was not passed, because the Rich Republicans needed a Bigger Piece of the Pie - FOR THOSE WHO ARE ALREADY RICH.
Today we ask - If Politicians can give huge tax breaks to the rich, why not just a few dollars for the Homelesss ?
Watch These Videos and Please visist the Invisible TV channel and send them to everybody you know today - just THIS one day lets show how loud we can scream with video for Our Community who needs a Home -
AMERICA ARE YOU PAYING ATTENTION TO WHO YOU WALK BY ON THE STREET ?
This is how the Halls of Congress should look today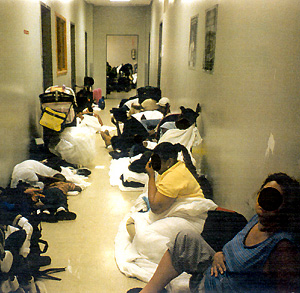 This is Candace who is in a day by day hotel with her children. they can't go to school and or live a normal life because they're homeless. Children need a safe environment and Candace deserves a home for her children.
This is Jean, with her five children and her husband. they live in a monthly hotel because they lost everything in the poor economy. these are middle class PROFESSIONAL people who both had jobs. they lost their jobs and when they moved to california - their lives collapsed.
Have you thought about the Homeless Teens ?

This is an epidemic that is creating an entire generation of homelessness - for who ? America.
Today we ask you to think about more than Christmas and reach deeply into your pocket and help the homeless. there are many organizations who primarily focus on helping the homeless - and we ask you to please remember them in your christmas giving this year.
WE See this Video and Know that America has Forgotten that Man and Man Should Live Together not Kill Each Other
This Year we want you to remember that Peace on Earth and Goodwill toward man begins when each and everyone believes that we all deserves to be Home For The Holidays.
Everyone Can Donate a Few Hours Time, or a Few Dollars to Help End Homelessness Now - America Open Your Hearts Today and End Homelessness