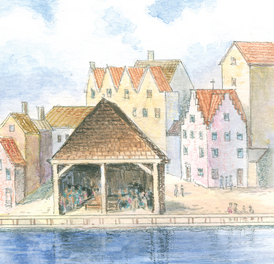 Most of us are Stymied on what this whole bailout will do to the economy; but we already know it's not good. from all projections made by competent economists - we are in for a repeat of 1929. and fyi this was an engineered crash meant to overwhelm the upcoming elected officials who will be saddled with the tremendous task of making this figure out of thin air. our economy is in shambles thanks to the shrub.
why should he be allowed to make such a huge and impacting decision on our lives when he is going to walk away with a clean conscious after he has bankrupted America's Citizens ?
It's time to put a halt to this ramdom excessive risk and stop wall street from assuming it's previous posture as a human marketplace. check out the news from the Obama Camp and the Economists since we already presented the John McCane Lack of Understading Point of View in an earlier post today.
fyi - wall street was formerly the New York Slave Market - Take A Look for Yourself
Remember

This Is OUR MONEY

and WE HAVE A RIGHT TO SAY HOW IT'S SPENT SO SPEAK UP NOW.


~RE
URL:
Obama calls financial bailout price tag "staggering"
(reuters.com)
By John Whitesides, Political Correspondent CHARLOTTE, North Carolina (Reuters) - Democratic presidential candidate
Barack Obama
on Sunday called the $700 billion price tag for a financial market bailout "staggering" and said the final product must protect U.S. taxpayers and include a commitment to new regulatory reforms.
At a rally in downtown Charlotte, North Carolina, Obama laid the blame for the Wall Street crisis on Republican economic policies favored by
John McCain
, his rival in the November 4 presidential election.
"We're now seeing the disastrous consequences of this philosophy all around us -- on Wall Street as well as Main Street," Obama told the crowd estimated at about 20,000.
"And yet Senator McCain, who candidly admitted not long ago that he doesn't know as much about economics as he should, wants to keep going down the same, disastrous path," the Illinois senator said.
Negotiations over the unprecedented $700 billion bailout opened on Sunday between Congress and the administration of President George W. Bush.
The sweeping proposal would have the Treasury buy up bad mortgage-related debts from financial institutions, including U.S. subsidiaries of foreign banks, to try to stem the worst financial storm since the Great Depression.
"As of now, the Bush administration has only offered a concept with a staggering price tag, not a plan. Even if the U.S. Treasury recovers some or most of its investment over time, this initial outlay of up to $700 billion is sobering," Obama said.
"And in return for their support, the American people must be assured that the deal reflects the basic principles of transparency, fairness, and reform," he said.
TAXPAYERS AND HOMEOWNERS
Obama said any final package must ensure that taxpayers and homeowners were protected. He said it should include a global response and a commitment to broad regulatory reforms that would prevent another crisis.
In separate interviews on financial cable TV channel CNBC, Obama and McCain both called for independent oversight of the financial rescue.
"I think we have to have oversight. I don't think it can be a blank check," Obama said. "We have to make sure that there's some accountability mechanism in it."
McCain also said the proposed bailout should set limits on leaders of financial institutions rescued by the government.
"No CEO of any corporation or business that is bailed out by us, that is rescued by American tax dollars, should receive any more than the highest paid person in the federal government," McCain said.
Aides to Obama said he had spoken to Treasury Secretary Henry Paulson on Saturday and to congressional leaders including House Speaker Nancy Pelosi of California and Senate Democratic leader Harry Reid of Nevada, as well as New York Sen. Hillary Clinton and former President Bill Clinton over the weekend.
Obama has delayed his own proposal for reform until the details of the package are agreed upon. He criticized McCain's approach on Saturday, saying the Arizona senator's fondness for deregulation would put at risk retirement funds in Social Security and the health care plans of many Americans.
McCain addressed a convention of the National Guard in Baltimore on Sunday, largely talking about the war in Iraq and mentioning the financial crisis only briefly.
He said he has proposed a "plan for comprehensive reform of the broken institutions that allowed this crisis to become a grave threat to our economy. At the center of the plan is the principle that we must keep people in their homes and safe guard the life savings of all Americans by protecting our financial system and capital markets."
The visit to North Carolina is Obama's third in the general election campaign. The state is traditionally a Republican stronghold in presidential elections, but Obama has tried to make it competitive this year.
(Additional reporting by Ellen Wulfhorst in Baltimore; editing by Cynthia Osterman)
(reuters.com) Mon Sep 22, 2008 7:31pm EDT

By Mark Egan
NEW YORK (Reuters) - The planned $700 billion bailout to shore up the battered U.S. financial system looked set to drag into next week as Washington lawmakers haggled over how exactly they could make Wall Street pay for its rescue.
Stocks and the U.S. dollar tumbled on Monday as emerging details of the plan left many players skeptical that the rescue, which would give powers to the U.S. Treasury Department to buy up toxic mortgage-related debt from financial groups, would work.

"The big detail we want to know is how is the government going to buy these securities, and what they will pay, how that reverse auction will work," said Giri Cherukuri, head trader at OakBrook Investments LLC in Lisle, Illinois. "And the big question is, 'Will this bring us out of the woods?'"

A day after America's last two big investment banks, Goldman Sachs and Morgan Stanley, ended Wall Street's swashbuckling era by securing Federal Reserve approval to become commercial banks, all eyes shifted to Washington.
U.S. lawmakers and Bush administration officials were hammering out details of a deal they hope will end the worst U.S. financial crisis since the Great Depression.

U.S. Treasury Secretary Henry Paulson and Fed Chairman Ben Bernanke start two-days of congressional hearings on Tuesday to hasten approval of the bailout.

With the economy the No. 1 issue in a U.S. presidential election that is about six weeks away, lawmakers want a plan in place quickly, fearing delay could send markets reeling again.

But with one-third of the U.S. Senate and the entire U.S. House of Representatives up for re-election on November 4, lawmakers will want to sound tough on such hot-button issues as the pay of reckless executives.

"We are not sending a blank check to Wall Street," House Speaker Nancy Pelosi said after holding bipartisan talks.
With so many ideas being floated in Washington on Monday, one congressional aide who asked not to be identified likened the scene to a "Turkish bazaar of public policy ideas."

The crisis has unsettled world markets, and Group of Seven finance ministers and central bank heads promised "heightened close cooperation" to safeguard the global economy.

The latest jitters came after the deal late Sunday scrapped the investment bank model synonymous with Wall Street, ensuring Goldman Sachs Group Inc and Morgan Stanley will avoid the fate of rivals that collapsed or were bought in the brutal meltdown of recent weeks.

Morgan Stanley went a step further, striking a deal with Japan's largest bank, Mitsubishi UFJ Financial Group Inc, on Monday to spend as much as $8.5 billion for about one-fifth of the prestigious 73-year-old investment bank, sending Morgan's shares higher before closing down.

ANGER AT BAILOUT
After Monday's talks, U.S. Rep. Barney Frank, a top Democrat, said the U.S. government would take equity in the companies seeking a bailout. But the U.S. Treasury is against that idea, sources close to Treasury told Reuters.

The White House said it agreed to an oversight board to monitor the bailout, which Democrats had pushed for. And Frank said there was also agreement that the plan should minimize the number of Americans who will lose their homes to foreclosure.

But lawmakers and Treasury officials were at odds on the emotional issue of whether executives at the companies in need of rescue must agree to limits to their compensation.

With details still in dispute, Frank said the legislation could take until next week to complete.
Earlier, U.S. President George W. Bush said, "Failure to act would have broad consequences far beyond Wall Street."
But U.S. Rep. Henry Waxman, chairman of the House Committee on Oversight and Government Reform, voiced outrage at the notion of any bailout without a cap on executive pay.

"The (Bush) administration's plan ... would enrich the Wall Street executives whose reckless investments caused the financial crisis," the powerful California Democrat said. "The taxpayer is being asked to risk billions to protect the bonuses of investment bankers."

Even some Republicans came out against the bailout.
Alabama Sen. Richard Shelby, the top Republican on the Senate Banking Committee, said he feared the bailout was "neither workable nor comprehensive."

"It would be foolish to waste massive sums of taxpayer funds testing an idea that has been hastily crafted," he said.
Sen. Chuck Hagel, a Nebraska Republican, told Reuters after a meeting of fellow Senate Banking Committee members, "I suspect there will be opposition. We're not there. We don't even have a product yet."
South Carolina Republican Sen. Jim DeMint called the Bush plan "completely unacceptable."
The uncertainty caused stocks to lose most of the gains seen on Friday, when word of the plan sparked Wall Street's best one-day gain since 1987. The S&P 500 index dropped 3.8 percent.
Buoyed by the dollar's near 2 percent decline, U.S. crude oil futures soared $16.37 to settle at $120.92, the biggest ever jump in a trading session. At one point, oil was up a stunning $25.45, or 24.3 percent.

In a crisis that has lurched from issue to issue since the U.S. economy first showed weakness and home prices began to tumble last year, prompting a credit crunch and the collapse of investment banking, some wondered where it would end.
"The thing that scares me is the breadth of it," said Robert MacMahon, managing director for restructuring at GE Corporate Lending.

Democrats, who control both chambers of Congress, pushed for changes to the plan on concerns that it could expand the powers of the executive branch without adequate oversight -- a frequent Democratic criticism of the Bush administration.

GLOBAL CRISIS
The crisis is threatening global markets. Central banks from Europe to Japan sought to shore up banks by injecting money into the banking system.. Even in the oil-rich Gulf region, the crisis was felt.
The United Arab Emirates Central Bank launched its first-ever emergency funding facility to help fund banks as global lending between institutions shriveled.

The Fed's agreement to convert the once high-flying Goldman and Morgan Stanley investment banks into more conventional depositary institutions was Washington's latest effort to restore calm to chaotic markets and avoid a deep recession.

Both Goldman and Morgan will now face a thicket of new regulations, which will bolster their resources but also curb the spectacular profit growth that made investment bankers among the highest paid in the nation.
The rescue came together after seismic shifts on Wall Street that saw Lehman Brothers Holdings Inc file for bankruptcy, Merrill Lynch & Co Inc agree to sell itself to Bank of America, and the Fed stage an $85 billion rescue of American International Group Inc.

AIG shares gained 23 percent on Monday on reports its investors were hatching a plan to prevent the insurer from falling into government ownership, by repaying the Fed's loan.

Goldman and Morgan Stanley were the last of the big five investment banks that shaped 20 years of Wall Street history after Bear Stearns collapsed earlier this year.

(Reporting by Nancy Waitz, Tom Ferraro, John Poirier, Kevin Drawbaugh, David Lawder, Richard Cowan, Jeremy Pelofsky and Emily Kaiser in Washington; Kristina Cooke, Bill Rigby, Jason Szep and Richard Leong in New York; Jessica Hall in Philadelphia; Blaise Robinson in London; Editing by John Wallace, Jeffrey Benkoe)
© Thomson Reuters 2008 All rights reserved
the Shady McCane ticket has flip flopped on everything they've said; from what they've done up to this point.
a case in point is Mccane's whole team of advisors - ALL Lobbyists; None Democrat; All For Profit;
When did elections stop being about the issues and more about the attacks against the opponent ?
somehow he seems to be totally unaware that initiating these attacks lead others to examine his politics and in fact his basics. he is not very smart to do this, because his resume' doesn't help. neither does his educational background. McCane admits time and again that he's not prepared.
why would we give the control of our lives for the next four years to some one who thinks a Blackberry is a fruit used in pies. this man does nothing what so ever to give the impression that he's anything other than dumb as number 894 in a a class of 899.. sad; totally a looser. a dumb looser.
did Shady Mccane forget about us ?
do we no longer count in this whole fiasco of a presidential race ?

I'm looking for any light anywhere in that long dark tunnel of lies they call a campaign strategy.
today when I read this article below, I had to literally go get a glass of Ice Water. Yes I suggest You Get One Too, cause this is gonna be a very slow looooooooong read; but well worth again looking at their nonsensical approach to how they'd govern US.
Hey Mr and Ms Shady McCane - I need a Bail Out NOW, not just a hand up. forget AIG and the rest of your big bloated friends. us, the US Taxpayers, the folks you may end up working for need a bailout.
Here's the Jimmy Kimmel translation
so what's your plan for that Shady McCane ?
I have yet to find evidence of the consideration for the us people - so in my simple scheme of thought; I say Forget Them. Let Them Rot. Call the electors in your district and tell them what you think and urge them to vote your conscious not the conscious of the media. Ignore the media. vote with the folks who live on their block and are sharing their circumstances. chances are, they'll avoid the Shady McCane ticket, cause it's just too expensive to keep bailing out the big businesses at the expense of the babies, old folks and unemployed of this country.
nuff said, for tonite - listen to Political Susu tomorrow and you'll get more than you bargain for, believe that baby. we're unraveling this spaghetti and putting a lil sauce on the whole deal.
even a dead journalist gets him to eat his words - Large Up Tim Russert, ya still ballin
a 22 percent unemployment rate is not a psychological problem.. 1.7 trillion dollar net worth loss by americans in the past year is record. oil is higher than it's ever been.. and what is he saying ?
He Doesn't Have That Kind of Expertise ?
'I don't understand Economics and you may know it better than I do' - John McCain July 2008
It's Time for a Change; Lets Make ONE NOW !
~RE
John McCain has moved to portray himself as a bipartisan candidate by promising to move key political staff outside the White House and appoint a Democrat to a top economic job.
Photo: AP
With his party deeply unpopular and Americans yearning for an end to partisan bickering, the Republican candidate wants to appear as a less divisive figure than his Democratic opponent.
He has pledged to make a Democrat head of the main financial regulator, the securities and exchange commission, a crucial role following last week's Wall Street collapse.
He will also move the political affairs office, containing the president's main policy-making staff, to another government building.
Barack Obama, the Democratic nominee, initially portrayed himself as a bipartisan figure.
But he has since become a more traditional candidate, largely because of the huge advantage Democrats enjoy this year with President George W Bush's poll ratings in the doldrums.
Mr McCain's two-pronged strategy is for Governor Sarah Palin of Alaska, his vice-presidential running mate, to excite Republican activists and some independent women, leaving the Arizona senator to make a direct play for the centre ground.
Despite the mocking from Democrats, her lack of contact with the media and her uncertain responses to some questions in her first big television interview with ABC News, Mrs Pallin, 44 and a mother of five, continues to be a huge draw.
Some 60,000 were estimated by a fire marshal to have attended Mrs Palin's rally at the Villages, a retirement community near Orlando, in Florida, on Sunday.
"We've got to have a White House that is without politics," Mr McCain said in an interview with the CBS's "60 Minutes".
The taxpayer-funded political affairs office would instead move to the headquarters of the Republican National Committee on Capitol Hill, he vowed..
The Bush administration has been heavily criticised for involving the White House too closely in Republican party politics.
Karl Rove, Mr Bush's chief election strategist, was put on the public payroll until he resigned from a senior job in the political affairs office in August 2007.
Mr McCain said: "It's time to show the American people that politics will not be part of this massive effort we're going to have to go on to restore the nation's economy."
He said that Andrew Cuomo, the scion of a prominent Democratic family and a housing minister under President Bill Clinton, would be an ideal head of the securities and exchange commission.
"I think he is somebody who could restore some credibility, lend some bipartisanship to this effort," he said.
His service under Mr Clinton was a bonus, Mr McCain said, because "he did a good job and he has respect and he has prestige".
Last week, Mr McCain said that he would fire Chris Cox, the former Republican congressman who currently heads the commission.
He suggested that an oversight board made up of figures respected in the business world such as billionaire financier Warren Buffett, an Obama supporter, Mr McCain's Republican primary opponent Mitt Romney, a former Massachusetts governor, and mayor Michael Bloomberg of New York.
At the same time, Mr Obama made a gesture to Republicans, saying that Henry Paulson, the treasury secretary, would be involved in a transition to an Obama administration.
"That doesn't necessarily mean that he'd end up being the secretary [of the] treasury, but I think it's important for us to make sure that those who are currently in charge... are deeply involved in the transition process," he said in a CNBC interview.
Mr McCain said he was worried about the power the treasury secretary wielded.
"I am greatly concerned that the plan gives a single individual [Mr Paulson] the unprecedented power to spend one trillion dollars on the basis of not much more than 'trust me'," he said.
I just received an anonymous email with tons of photos (which I will put up here) of a recent rally of Alaskan women protesting against Sarah Palin. I really have not heard much about this in the major media, so we are throwing this up to help spread the word. I sent an email out to the person who emailed this to me to contact the original source. I am putting the photos up as well, to help spread the word that was forwarded, but will take them down if the owner of the photos objects having them on the site. After the jump is the text of the email I received, with the attached photos from the Rally.
"[The] Alaska Women Reject Palin rally was to be held outside on the lawn in front of the Loussac Library in midtown Anchorage. Home made signs were encouraged, and the idea was to make a statement that Sarah Palin does not speak for all Alaska women, or men. I had no idea what to expect.
The rally was organized by a small group of women, talking over coffee. It made me wonder what other things have started with small groups of women talking over coffee. It's probably an impressive list. These women hatched the plan, printed up flyers, posted them around town, and sent notices to local media outlets. One of those media outlets was KBYR radio, home of Eddie Burke, a long-time uber-conservative Anchorage talk show host. Turns out that Eddie Burke not only announced the rally, but called the people who planned to attend the rally "a bunch of socialist baby-killing maggots," and read the home phone numbers of the organizers aloud over the air, urging listeners to call and tell them what they thought. The women, of course, received some nasty, harassing and threatening messages.
I felt a bit apprehensive. I'd been disappointed before by the turnout at other rallies. Basically, in Anchorage, if you can get 25 people to show up at an event, it's a success. So, I thought to myself, if we can actually get 100 people there that aren't sent by Eddie Burke, we'll be doing good. A real statement will have been made. I confess, I still had a mental image of 15 demonstrators surrounded by hundreds of menacing "socialist baby-killing maggot" haters.
It's a good thing I wasn't tailgating when I saw the crowd in front of the library or I would have ended up in somebody's trunk. When I got there, about 20 minutes early, the line of sign wavers stretched the full length of the library grounds, along the edge of the road, 6 or 7 people deep! I could hardly find a place to park. I nabbed one of the last spots in the library lot, and as I got out of the car and started walking, people seemed to join in from every direction, carrying signs.
Never, have I seen anything like it in my 17 and a half years living in Anchorage. The organizers had someone walk the rally with a counter, and they clicked off well over 1400 people (not including the 90 counter-demonstrators). This was the biggest political rally ever, in the history of the state. I was absolutely stunned. The second most amazing thing is how many people honked and gave the thumbs up as they drove by. And even those that didn't honk looked wide-eyed and awe-struck at the huge crowd that was growing by the minute. This just doesn't happen here.
Then, the infamous Eddie Burke showed up. He tried to talk to the media, and was instantly surrounded by a group of 20 people who started shouting O-BA-MA so loud he couldn't be heard. Then passing cars started honking in a rhythmic pattern of 3, like the Obama chant, while the crowd cheered, hooted and waved their signs high.
So, if you've been doing the math Yes. The Alaska Women Reject Palin rally was significantly bigger than Palin's rally that got all the national media coverage! So take heart, sit back, and enjoy the photo gallery. Feel free to spread the pictures around to anyone who needs to know that Sarah Palin most definitely does not speak for all Alaskans.The citizens of Alaska, who know her best, have things to say."
Ladies do your bills cost less than a mans ?
usually my bills don't indicate if they are
Penis or Vagina Rate
..
I know you are thinking now
.. What The.. Whatttt ?
simply put,
Shady McCane will work for
less than Dick Chaney -
I know,
Sweet Minty Jesus!

- Why ? well lets take a look at this little ditty from a great news blog I visit often - Wordsmithlind:
I wonder if McCain's decision to choose Palin as VP-candidate is part of his economic plan. As has been ever so slightly mentioned in the media, McCain voted against the Lilly Ledbetter Fair Pay Act*** which in an essence would close any loopholes in the Civil Rights Act of 1964 thus truly insuring equal pay for equal work. In this day and age, how can anyone be against equal work for equal pay based on sex, race, religion, or any other inequality? Apparently McCain is fine with this (along with 41 others in the Senate) and it seems as if Palin has no problem with this either being that she is standing alongside this man. As a woman, regardless of political affiliation, you would think she would stand up for what is right and just—namely, equality. Instead she sticks with her backwards 1950's politics. I wonder if she is going to be willing to take a pay cut if she gets into the White House;


currently Cheney is receiving $208,100 per year. Now Lilly Ledbetter was making 40% less than her male co-workers for the same work, so that would make Palin's salary $124,860.


Hey, sorry Palin, that's just the way the world works according to McCain and yourself and your outdated politics. I quote Palin by saying it is "God's will." - end quote.

Uh Huh.. just what I was talkin about - see I knew you'd get it instantly. Booyah !
this woman wants us to go back to accepting the idea of unequal pay for an equal days work as
normal and acceptable ?
what kinda foolywang economics is that ?
this coming from the alaska politician who says "Polar Bears Are Not In Danger from Global Warming". Sheesh..
Somebody is gonna slap this woman with a grilled cheese coated lawsuit real soon for these obviously cartoon logic enviromental comments. she would do better to call herself the vice comic. sheesh..
there is almost nothing worse than seeing someone so unprepared trying to run on 'A Teenage Pagent Sash and Royal Wave Platform'(Camilla She Ain't) instead of honest hard experience and readiness for the tough job ahead.
to quote one of my favorite ska songs from long ago "Stand Down Shady - Stand Down"

Shady why do you keep lying when you know that journalists will find your old lies ?
this lil piece is all about the Shady McCane Media Boycott - and believe me I think it's time to highlight their real policy and history as bright as possible.
so what if they refuse to talk honestly ?
That Means their history is the coverage; and it will be factual and without their contrived pagentry. this royal wave of bs is due to pass like stale gas very quickly; as the american public is finding it's logic, in the actions put forth in this humongeous crisis in the financial sector - where John McCane's buddies all make their cheddar, off us poor suckers.
Dig This - from My Friends at
Think Progress
- go hit em up for a good read on this political mess
Earlier today, the McCain-Palin campaign backed out of its promise to allow print journalists from reporting on Gov. Sarah Palin's (R-AK) U.N. meetings this afternoon. Instead, the campaign wanted to turn it into an elaborate photo op, deciding to allow photographers and a CNN camera crew only. According to Politico, the
press have begun to revolt
:
But the imbroglio began developing Tuesday morning when Palin's handlers informed the small print press contingent covering her campaign that the print reporter designated to cover the events, Elizabeth Holmes of the Wall Street Journal, would not be allowed to cover the sprays. […]

The campaign also at first moved to bar CNN, the television network designated for pool duty, from sending its editorial producer – basically a hybrid print/video journalist – though the campaign budged when the network threatened to withhold its cameras as well.
-John McCanes' No Talk Express Tour - 09/23/08 in Strongsville Ohio-
With increasingly negative press coverage over these events, the campaign eventually allowed Holmes into the Karzai event for a
whopping 29 seconds
, and has now agreed to
let her cover the next two "sprays"
before Palins' meetings with Colombian President Uribe and former U.N. Secretary of State Kissinger. Earlier in the day, the networks had voted to
ban any use of photographs and videos
from the event, to protest the lack of editorial presence and deny the McCain-Palin campaign of a free photo op.
Similarly, in Ohio today, Sen. John McCain (R-AZ) ignored questions from reporters on the bailout, prompting one journalist to yell, "
Has your bus become the No Talk Express?
"
Today at 4 p.m. ET, McCain will be holding a press conference,
his first since Aug. 13
.
Palin has yet to hold a press availability.
URL:
NORML.ORG IL: Palin's Double Standard on Marijuana
When it comes to questions about youthful marijuana use, Sarah Palin is no Slick Willie. "I can't claim a Bill Clinton and say that I never inhaled," the Republican vice presidential candidate told the Anchorage Daily News in 2006, before she was elected governor of Alaska.
Palin has the difficulty reconciling her personal experience with her policy positions, a problem also shared by former pot smoker Barack Obama. Neither of them has a persuasive answer to the question of why other Americans should be arrested for something they did with impunity.
Pot smokers who are arrested
do not typically spend much time in jail. But as a 2007 report from the Center for Cognitive Liberty & Ethics noted,
they pay a substantial cost that includes not only public humiliation and legal expenses but also collateral sanctions such as "revocation or suspension of professional licenses, barriers to employment or promotion, loss of educational aid, driver's license suspension, and bars on adoption, voting and jury service."
According to figures the FBI released this week, about 873,000 people were arrested on marijuana charges in the United States last year, a record. Pot busts accounted for nearly half of the 1.8 million drug arrests; as usual, the vast majority, about 775,000, were for simple possession, as opposed to cultivation or sale.
This is the fifth year in a row marijuana arrests have increased, an upward trend that began in the early 1990s. Three times as many people were arrested on marijuana charges last year as in 1991. The increase in arrests does not correspond to an increase in use; instead, the chance that any given pot smoker will be busted ( though still small ) is much higher than it was two decades ago. It is also higher than when Palin attended college in the '80s, which is presumably when she tried marijuana.
By way of extenuation, the Anchorage Daily News reported, Palin noted that marijuana "was legal under state law," although "illegal under U.S. law." In 1975, the Alaska Supreme Court ruled that the state constitution, which says the "right of the people to privacy is recognized and shall not be infringed," prohibits the government from punishing people for possessing small amounts of marijuana in their homes.
A 1990 ballot initiative ostensibly recriminalized all marijuana possession, but in 2003, the Alaska Court of Appeals ruled that "a statute which purports to attach criminal penalties to constitutionally protected conduct is void." The following year, the Alaska Supreme Court declined to hear the state's appeal of that decision.
In 2006, the state Legislature, at the urging of Palin's predecessor, Frank Murkowski, passed another law that supposedly made private possession of marijuana for personal use a crime. A judge found that law unconstitutional as well, and the Alaska Supreme Court is considering an appeal of her ruling.
The upshot is that smoking marijuana in the privacy of one's home is just as legal in Alaska today as it was when Palin did it. Evidently, she regrets this.
As Wasilla mayor in 2000, Palin championed a city council resolution opposing a ballot initiative that would have legalized marijuana for adults. In March her administration asked the Alaska Supreme Court to reverse its 1975 decision shielding private marijuana use, arguing the drug is more dangerous than it used to be.
In other words, Palin got to smoke pot without worrying about legal consequences and now wants to deny that assurance to fellow Alaskans doing exactly the same thing. "Palin doesn't support legalizing marijuana," the Anchorage Daily News reported in 2006, because she worries about "the message it would send to her four kids."
It's Palin's job to teach her children that certain pleasures are reserved for grownups. The government should not continue to arrest adults who are harming no one simply because her children are easily confused.
Pubdate:
Thu, 18 Sep 2008
Source:
Chicago Sun-Times (IL)
Copyright:
2008 The Sun-Times Co.
Contact:
letters@suntimes.com
Website:
http://www.suntimes.com/
Details:
http://www.mapinc.org/media/81
Author:
Jacob Sullum