It's Time for Political Susu - where the mask comes off;
There's No Time for Hollywood Head Games or DC Melodrama Mama's.
So lets get right to it, Shady McCane ain't the ticket; neither is classism.
"I can see Russia from my house!" Fey-as-Palin said.
You'll never guess who was watching
Tina Fey
and
Amy Poehler
's priceless
Sarah Palin/Hillary Rodham Clinton
skit
on "Saturday Night Live."
"I can see Russia from my house!" Fey-as-Palin said.
According to
Us Weekly,
Gov. Sarah Palin was.
She and her staff watched it onboard the campaign plane flying from Reno to Denver on Saturday evening. Although
ABC
is reporting that there was nothing but "silence" from the front of the plane, which was hidden by a pulled curtain, the reporters onboard the campaign plane were howling over the impression.
"The flight attendants assured us Palin and her entourage were watching. What she thought, though, is anyone's guess. Palin has yet to say so much as hello to the press corps," reads the ABC report posted Sept. 14.
But
Palin's spokeswoman Tracey Schmitt gave the official campaign reply to CBS News: "She thought it was quite funny, particularly because she once dressed up as Tina Fey for Halloween."
What? Where are those photos? We want, make that
need
, to see them NOW! Unless it's just a poor imitation of Fey's "Weekend Update" co-anchor suit. That's kind of a snooze.
Watch the SNL video
again, because once is not enough.
Photos:
Eerily, Sarah Palin looks more like a SNL cast member than Tina Fey does. And Tina Fey looks more like a VP candidate. The grassroots Tina Fey write-in movement starts now! Who ya gonna vote for?
WireImage
Katie Couric's Got Palin Now
Oprah?
Are you listening? It's getting to look like you'll be the last one in this conga line.
Sean Hannity
has
Sarah Palin
this week.
Charlie Gibson
had her last week. And now…
Katie Couric
will interview her in a week and a half… (Oh, and
Brian?
Are you starting to feel like chopped liver at this point? Blame the
Bickerson Boys.
)
The details - which, in fact, first got out via a Page Six item this morning: Katie'll spend a couple days with Tina Fey…err, Palin on Sept. 28 and 9, then excerpts will air that Monday, the 29th.
Additional details from the presser: "Coverage of Couric's travels and interview with the Republican Vice Presidential nominee will include behind-the-scenes access and Palin with Senator McCain as they campaign in battleground states.
"The interview will take place just days before the Vice Presidential debate between Palin and Senator Joe Biden in St. Louis on Thursday, October 2. Portions of the interview and extended coverage of the trip will be available across all CBS News platforms…"
I guess we'll get the press release next week saying
Wolf
will have Sarah. Oh wait: The McCainers have a problem with
Campbell Brown,
so….
(Pix: Frederick M. Brown / Getty Image)
And here are a few of Leno's political jokes on Friday:
If you watched TV last night, you know that Charlie Gibson did something John McCain has never done: interviewed Sarah Palin.
Last night Sarah Palin gave an interview with ABC's Charlie Gibson. Earlier today her future son-in-law was on Maury Povich: "You are the father!"
At one point Charlie Gibson asked Palin about the Bush doctrine but she didn't know what it was. To be fair, even Bush doesn't know what the Bush doctrine is.
That was the big bone of contention on the cable talk shows.
Supporters of Palin say that it's OK she doesn't know what the Bush doctrine is because the average American doesn't know what it is. Shouldn't the bar be a little higher for this job? Shouldn't it be a little above average? I'm mean, let's be honest we already had an average guy as president. It didn't work out that great.
The most important question that i would have asked her last night? "How were you treated at ABC? Are they nice people? Are they easy to work with?" That's what i would have asked.
Sarah Palin was also asked if we might have to go to war with Russia. She said, "perhaps so." Perhaps so? Isn't that like a magic 8-ball kind of answer? Will we have to go to war? "Reply hazy. Try again later. It is decidedly so."
Today the Secret Service revealed that Sarah Palin's Secret Service code name is "denali." Here's my question, what's the secret part? I mean if the Secret Service is going to give you a Secret Service code name, shouldn't they keep it a secret? Why not just call her Sarah?
They also revealed that Sarah's husband Todd, who works in the oil field…His Secret Service code name is "driller." I guess they figured Bill Clinton wasn't using it anymore.
And as you know they've already come out with a Sarah Palin action figure. Today the Democrats released a Joe Biden action figure, and it talks…and talks…and talks… You can't get the thing to shut up.
And the other day while talking to a group of supporters, Joe Biden said that Hillary Clinton might have been a better pick for vice president than him. Yeah, that's one way to get the base fired up, huh? Tell them they picked the wrong person.
And according to an AP article in the paper today, Sarah Palin's church in Alaska is promoting a conference that promises to convert gays into heterosexuals through the power of prayer. They call it "pray away the gay." It's a lot better than the original title: "Think outside the bun."
Republicans Buy Up Souvenirs of Aunt Jemima Obama
OBAMA WAFFLES
From Staff & Wire Services
Posted Sept. 16, 2008 – Like hotcakes, Republicans snapped up boxes of waffles with the image of Sen. Barack, portrayed as the racially stereotyped Aunt Jemima caricature. Attendees at the Values Voter Summit, a conservative political forum, couldn't get enough of the $10-per-box Obama Waffles, until summit organizers decided to cut off sales, saying they didn't realize "offensive material" was being offered.
Reminiscent of the old Aunt Jemima pancake box, Obama is portrayed with bulging white eyes and big ruby-red lips; instead of the mammy rag, the Democratic presidential nominee's head is wrapped in an Arab headdress, stoking the false rumor that he is a Muslim. (Obama is actually a Christian.)
The back of the box shows Obama garbed in stereotypical Mexican dress, including a sombrero. Below that image is a recipe for "Open Border Fiesta Waffles," which purportedly can serve "4 or more illegal aliens." And, "while waiting for these zesty treats to invade your home, why not learn a foreign language?" the recipe suggests.
According to
The Associated Press
, the waffle mix is the brainstorm of Mark Whitlock and Bob DeMoss, from Franklin, Tenn., who says it was only a political joke at a rented booth at the summit, sponsored the Family Research Council.
Among those attending the three-day event were Republican Party faithful, including Newt Gingrich and Mitt Romney, who spoke at the forum. A picture of CNN's immigrant-bashing commentator, Lou Dobbs, is shown on the creators' Web site with a box of Obama Waffles. Dobbs is quoted on the site saying, "My wife is gonna love these."
Sarah Palin Special - Buy 2 get 1 FREE!

$19.98

Three boxes of Obama Waffles for the price of two. Just the type of bargain MOM Sarah Palin would look for. And the type of frugality she says she'll seek in the White House. Now that's change in your pocket.




Deliver Me From Temptation.. day three "Days Of Our Lies"
"Days Of Our Lies"
With this week being focused on McCane - it's hard to resist, with all the goodies being
leveraged to control the policy of this country; under a shady mccane rula.
Lobbyist who are his best friends. Lobbyists who Run His Campaign; Lobbyists who persuaded
him to select Shady.. is this really a thinking Mind ? that's what inquiring minds realllly want to know.
Don't Miss
One of the group's recent ads charged, "Charlie Black said he didn't do anything wrong. John McCain should tell Black he did. Call John McCain and tell him to fire Charlie Black."

Watch the Republicans' ad calling McCain-Palin mavericks »
From Ed Henry
CNN White House Correspondent
WASHINGTON (CNN)
— Republicans say Sen. John McCain and his vice presidential running mate, Sarah Palin, are mavericks. But in a new ad, Sen. Barack Obama's campaign says not so fast — they're no maverick reformers.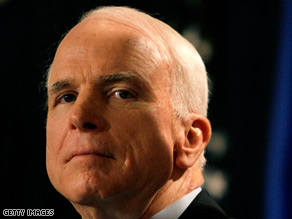 Sen. John McCain has been criticized for employing top lobbyists in his campaign. And it's a point that Obama has been making on the campaign trail in recent days.
"John McCain says that he is going to tell all those lobbyists in Washington that their days of running Washington are over, which sounds pretty good until you discover that seven of his top campaign managers and officials are — guess what? — former corporate lobbyists," Obama said recently in Flint, Michigan.
It's true: Seven top McCain officials were lobbyists, though the campaign stresses that none is currently registered to lobby Congress:

• One: Campaign manager Rick Davis is a major telecommunications lobbyist.

• Two: Senior foreign policy adviser Randy Scheunemann recently faced scrutiny over his foreign lobbying on behalf of the Republic of Georgia, which has been embroiled in a military conflict with Russia.

• Three: Senior adviser Charlie Black was a foreign lobbyist for dictators in Zaire and Angola in the 1980s, fodder for the liberal group MoveOn.org.

• Four: Frank Donatelli, the Republican National Committee's liaison to the McCain campaign, has had clients including Exxon Mobil.

• Five: Economic adviser Nancy Pfotenhauer has lobbied for corporate giants like Koch Industries.

"Both John McCain and Sarah Palin have challenged special interests, challenged their own party. That's the test of courage," Pfotenhauer has said.

• The final two lobbyists are McCain's congressional liaison, John Green, and national finance Co-chairman Wayne Berman. They both lobbied for Fannie Mae, the troubled mortgage giant.
But
Obama
's case could be undermined by running mate Sen. Joe Biden's close ties to lobbyists, including his son Hunter, who has worked for credit card giant MBNA.
Biden insists that his son's employment had nothing to do with his support of bankruptcy legislation backed by the bank.

Watch Palin criticize Biden's change argument »
"I can look you right straight in the eye and guarantee you my son has never, ever, ever lobbied me," Biden said on CNN's "American Morning" on September 4.
The McCain camp stresses that Donatelli and Berman are technically not officials of the campaign, though they are advisers.
But the bottom line is, both sides have ties to lobbyists, meaning whomever wins will have a hard time backing up the rhetoric about change and shaking up Washington.
URL:
Black Unemployment Surges Past 11 Percent - New America Media
Philadelphia Tribune
, News Report, Terry Johnson, Posted: Sep 15, 2008
It's been eight months and Isaiah Washington, 18, is getting frustrated. He's pounded the pavement knocking on doors and he's faxed resumes all to no avail.
"It's tough especially for young Black men" said Washington. "I need a job with benefits, but nothing is out there. I've had a few interviews, but they don't result in nothing."
Washington has no skills and he's a high school dropout.
But James Price is frustrated, too. He's got a college degree and the skills to go along with it. He's mostly worked in the media and ran his own business for a decade before his cash flow ran dry.
"There is a media crisis," he said. "Newspapers aren't hiring and televisions stations are only hiring if you have a good inside contact and you are young and white. Mature, skilled Black people like me need not apply. I'm at the point where I'll take almost any job that pays me what I'm worth and provides health insurance."
These are the easy tales of woe found in almost any African-American community in Philadelphia. But these anecdotes and the government's recently released national unemployment statistics don't tell the true story about the depth of joblessness in the Black community.
The most recent U.S. Bureau of Labor Statistics figures show that the national African-American unemployment rate has hit 11 percent — reaching double digits for the first time in three years.

The bureau has yet to release Philadelphia's unemployment rate by race or gender. The city's total jobless rate stands at 7.2 percent, higher than the nation's 5.7 percent unemployment rate.

Experts say the current increase in African-American unemployment is driven by a rise in Black women's unemployment, which jumped 1.7 percentage points, from 8.3 percent in July to 10 percent in August. Last August, the Black female unemployment rate was 7.5 percent.

This year, Black men's unemployment rate declined slightly from July to August, going from 11.3 percent to 11.2 percent, but it is still significantly higher than it was just a year ago when it was a much lower at 7.9 percent.

Young Black adults and recent college graduates (25 to 29-year-olds) are finding it difficult to find work. Their unemployment has risen from 5.1 percent in August 2007 to 6.9 percent last month. As the economic downturn proceeds, it will continue to have a disproportionate effect on African Americans.

But the true extent of the unemployment problem rarely receives the attention that it deserves. Perhaps for reasons of race or systemic economic justice, Democratic and Republican presidents have made the real unemployment statistics almost impossible to find in the media.
People are rightfully suspicious of what the media now tries to pass of as "official" jobless statistic.
The unemployed heads African Americans see and know can be counted on street corners, in front of television sets, sitting in living rooms, bored and or angry and frustrated and locked down in some jail cell.
Finding the true jobless figures is like playing a shell game with a street corner hustler. The object to be found is taken off the table so no matter which shell the unsuspecting player picks, the object will never be found.
What makes the object — or the true jobless rate — so important is that it affects the social fabric of the African-American community.
A high unemployment rate can determine the quality of family life and education, crime, housing, how long people lives, how sick they are and many other vital factors.
Simply put: numbers are political. They tell stories that shape public policy and those policies can sometimes determine who lives and who dies; who will be homeless and who will not; who has heat in the winter and who will go hungry. Numbers are not to be trifled with.
And numbers come with consequences. These social ills require special programs ranging from Food Stamps, AID to Dependent Children, unemployment compensation, housing support, energy assistance and Medicaid.
In the 1950s, the federal, state and local governments paid $23.5 billion for these program. By 1990, the cost for these programs hit $1 trillion — no small sum by any measure.
Some economists argue that the national Black jobless rate or employment-population ratio (the proportion of the working age population with a job) for African Americans is 42 percent of all those of working age.
The translation: Almost half of all African Americans who can work aren't working.
There are numerous arguments about why that is the case. Among the most popular is that Black men, for example, refuse to work for what they call "chump change." Any job, the popular saying goes, is better than no job.
In a recently released paper by Algernon Austin, director of the Washington based Economic Policy Institute's Program on Race, Ethnicity and the Economy, he argues that studies have found that Black men are willing to work for lower wages than any other major racial and ethnic groups in the U.S.
He concluded that African-American men were willing to work for $5.85 an hour if there were no other jobs available and white men were willing to work for $8.93 under the same circumstances.
Austin also wrote: "The surprising fact about the employment rate gaps among white and Black men is that the gap is biggest among high school dropouts. It is the jobs that are defined as low-skill jobs (i.e., those that do not require a high school diploma) that Black men have the most difficulty obtaining.
"In 2007, for men in the prime working ages of 25 to 54 years old, the white-Black employment gap for high school dropouts was 15.4 percentage points. For male college graduates, whites had a four-percentage point employment advantage over Blacks. For men with advanced degrees, the white male employment advantage was 1.8 percentage points."
The social consequences of such a high unemployment rate are astounding. Policymakers and social science contend that they have resulted in overcrowded jails, failing schools, deteriorating housing and a broken health care system.
"Based on these real numbers, it is clear that we need some kind of domestic Marshal Plan," said Austin. He was referring to a World War II era development program that helped Europe and Japan recover from the war.
Rather than a Marshal Plan, there is a growing movement in the African-American community calling for reparations and economic justice for all Americans.
There are numerous reasons why the public never gets a chance to see these numbers.
Kevin Phillips, a speechwriter in the Nixon administration and an economist, says since 1960 both Democratic and Republican presidents have rigged the numbers and the media has played along.
He says even the Clinton administration, which was widely praised for its policies toward African Americans, helped push the real statistical realities of Blacks under the carpet.
According to him, the Clinton administration redefined the workforce as people seeking work for less than a year, so that those who were out of the job market for more than a year were not counted in the unemployment statistic.
The Clinton administration also thinned the household economic sampling from 60,000 to 50,000 by dropping mostly inner city households, resulting in a count that reduced Black unemployment and poverty levels.
These numbers are only expected to get worse as the nation's economy settles into a deepening slump with worsening economic pain for families. The past seven months of job losses follows the slowest job growth since the Great Depression.
"The worst is yet to come in the U.S.," Kenneth Rogoff, a Harvard University professor of economics, said in an interview.
As the old saying goes, when white America catches a cold, Black American catches pneumonia.
CDC: rates of new HIV cases in MSM of color 'alarming' - Bay Windows

TopNews
CDC: rates of new HIV cases in MSM of color 'alarming
'
by Ethan Jacobs -Baywindow associate editor - Monday Sep 15, 2008
The Centers for Disease Control and Prevention (CDC) released a report Sept. 11 that for the first time shows the number of new national HIV cases in specific sub-populations, and the numbers show that within the gay and bisexual male community the epidemic has taken the greatest toll among young African American men and white men in their 30s and 40s. The report found that in 2006 young African American gay and bi men between the ages of 13 and 29 were the hardest hit in terms of new infections.
"There were more new HIV infections in black MSM [men who have sex with men] between the ages of 13 and 29 than any other group of MSM, regardless of race or age," said Richard Wolitski, acting director of the CDC's Division of HIV/AIDS Prevention, during a press conference call.
The report found that in 2006 there were 5220 new HIV infections among young gay and bi black men, about twice as high as the number of infections among both young white and Hispanic gay and bi men. Wolitski called the infection rates "alarming."
Wolitski said the new report does not explain why there is such a disparity in new infections by age and race, but he said other research suggests that the high rates of infection among young black gay and bi men may be caused by a combination of stigma, lack of access to HIV prevention services, and an underestimate by young black gay and bi men of their risk for infection. He also said a factor may be that they are too young to remember the worst days of the epidemic.
The report also found that white men account for nearly half of all new infections among gay and bi men. The new infections among white gay and bi men skew much older than among black men, with the highest number of new infections among men in their 30s and the next highest number among men in their 40s. Wolitski said that other research suggests that the higher rates of infection may be a sign that men in that age group are having difficulty maintaining safer sex practices decades into the epidemic. Substance abuse, homophobia, and an already high prevalence of HIV among white gay and bi men in those age groups may also be contributing factors.
Among Hispanic gay and bi men the greatest number of new infections fell into the 13-29 age group, at 2300 new infections in 2006, but there were also more than 1800 new infections in Hispanic men ages 30-39.
Kevin Fenton, director of the CDC's National Center for HIV/AIDS, Viral Hepatitis, TB and STD Prevention, said the new numbers show the importance of reaching gay and bi men with HIV prevention messages from an early age and continuing to engage them as they age.
"On the one hand we must ensure that HIV infection does not become a rite of passage for young gay and bisexual men. That means we need to reach each new generation of MSM early in their lives to provide the knowledge and the skills they need to prevent infection. And at the same time we must develop strategies for keeping MSM in older age groups HIV-free for life," said Fenton.
Wolitski said the CDC needs to invest in research to develop new and more effective ways to reach gay and bi men with prevention messages, particularly subgroups such as African American and Hispanic men. A 15-city study by the CDC found that 80 percent of gay and bi men had not been reached by scientifically proven HIV prevention messages in the past year.
"There is a need for us to continue to invest in the research that's needed to address the specific needs of some subgroups of the MSM community for which we do not currently have clinically proven HIV prevention interventions. So we have some gaps in our armamentarium of prevention tools. Specifically for men who have sex with men who are black and Hispanic we have a relative lack of interventions, as well as for those men who are Asian Pacific Islander, American Indian or Alaskan native. So we need additional tools. We need to make sure hat the research happens to develop those tools," said Wolitski. "And it's also important to keep in mind that once we develop an intervention it's not necessarily the case that that intervention would remain effective or appealing to the population for decades to come. We need to be continuing research and efforts to update our intervention so that they speak to the issues that persons at risk are currently experiencing in their lives and that they speak to the evolving nature of the epidemic."
Ethan Jacobs can be reached at ejacobs@baywindows.com
URL:
The Implications of the Prison Industrial Complex on Black America - Louisiana Weekly
DRUGS BUST: A scene that has become commonplace across America
How a $45 billion policy has had devastating consequences for millions of African Americans
Absent fathers, orphaned children and growing numbers of HIV and Hepatitis C infections are what some African Americans are facing due to the anti-drug policy, 'war on drugs'.
Exactly 25 years ago former president Ronald Regan announced his zero tolerance measure to tackle what he saw was a growing epidemic of illegal drug use in the nation.
Politicians believed that millions of Federal money should be spent on prosecuting and sentencing drug users in the hope that it would reduce drug addiction and send out the message of zero tolerance.
This ethos has continued. In 2005 the Office of National Drug Control stated that the Federal government has spent more than $45.5 billion (£26 billion) on the war on drugs programme and it appears that African Americans are facing the brunt of this no nonsense policy.
According to a 2006 report by the American Civil Liberties Union, African Americans make up an estimated 15% of drug users but they account for 37% of those arrested on drug charges, and 74% of all drug offenders sentenced to prison.
The impact of American drug policy is to be debated at a conference held by Drugs charity Release this week in at north London's Hampstead Theatre.
Deborah Peterson Small a former director of the Drug Policy Alliance will speak about the racism within the war on drugs policy at the conference.
"The war on drugs policy has had a devastating affect on African American communities, particularly poor communities that already suffer from a whole host of economic and social problems," she said.
Pointing to prison sentencing, Small from New York, says the mandatory minimum sentence policy for low-level drug offences, subjects people who are low level participants, to the same or harsher sentences as major drug dealers.
Currently, crack cocaine is the only drug for which the first offence of simple possession can trigger a federal mandatory minimum sentence. Possessing 5 grams of crack with a street value of $1,000 (£500) carries an automatic 5 year jail sentence.
According to Small, this trend has effectively transformed federal prisons into institutions increasingly dedicated to incarcerating African Americans.
"The policing of communities of colour, especially poor communities, combined with long mandatory sentences has pretty much guaranteed that a lot of these people will spend their lives cycling in and out of the criminal justice system," she explained.
Despite the high rates of African American drug convictions, a recently released report by Human Rights Watch, found that African Americans are not the greatest users of drugs. According to Jamie Fellner, author of the report, whites are more likely to be drug users.
"Whites are the majority of drug offenders but blacks are the majority sent to prison on drug chargers. The alarming increase in drug arrests since 1980, concentrated among African Americans, raises fundamental questions about fairness and justice," he said.
Small believes that this misconception has led law enforcers to unfairly target African Americans.
"There is a general myth that poor people, black people and Latino people use more drugs than others. However in every study that has been done, it shows that they use drugs in proportion to the rest of the population," she said.
This misconception was perpetuated in the 1980s. Between 1984 and 1990 there was a huge surge in the use of crack cocaine in major cities and crack houses all over the USA.
As the drug was cheap and simple to produce it became more accessible to inner city communities mainly populated by African Americans.
The social cost proved great for African Americans as between 1984 and 1994, crack related homicide rates for black males aged 14-17 more than doubled and the homicide rate for black males aged 18 to 24 increased nearly as much.
However, Small feels that the media frenzy was unnecessary and has helped stereotyped African Americans as rampant drug users.
"Substance abuse has been racialised in the media and in reality. If you look at the data the percentage of people who tried and use crack cocaine was small and has remained small.
"There was an increase but it was always less than five percent of all drug use so this whole thing about an epidemic was overblown," she claims.
Adding: "In New York City the majority of people who are using crack cocaine now who are using are in the 30s and 40s. There isn't a new generation of crack cocaine users because young people don't tend to use it."
Having a drug conviction has ensured that some members of the African American community, particularly men, are unable to function or contribute to society.
Under the war on drug policy a convicted criminal can no longer vote, cannot claim welfare benefits and gaining employment is near impossible.
At least one in four black males will spend time in the criminal justice system and Small feels that this has led to a direct correlation between drug convictions and absent fathers.
"For a young man who acquires a felony his ability to generate enough money to support himself, much less a child, is limited.
"His expectations about his life is that he will spend time away from a family and community. When you have a generation of people who have this expectation that doesn't lead you to develop long term committed relationships," she explained.
Its not only black men who have suffered under drug policies. African American women are now incarcerated for drug offences between three and four times the rate of white women according to the Bureau of Justice Statistics. This has led to the breakdown of families says Small.
"Women have it 10 times worse on so many different levels. If you're doing a long sentence and you don't have any family members to take care of your child, you can actually end up losing custody permanently as a result of your prison sentence," she explained.
"If you ever wanted to make a woman feel hopeless about her life, take her kids away."
Even more worryingly is that the government's focus on punishment has led to federal funding being cut on drug treatment programmes.
The White House's budget proposal for 2009, cuts the funding for the prevention and treatment of drug abuse to $4.9 billion.
Small claims that programmes, such as needle exchange where drug users can use clean needles instead of dirty ones, are not being cut. This has increased the rates of HIV and hepatitis C especially amongst black women.
A report by the Department of Health Services, which analysed the prevalence of HIV infection among African American women, stated that black women who injected drugs were more than 3 times more likely to be infected.
"The policy does not allow for federal money to go and support needle exchange programmes. The only places that have them is in cities that have decided to pay for it themselves or private organisations that are willing to put up the money," she said.
Frustrated by the government's lack of rehabilitation measures, Small decided to set up the organisation Break The Chains in 2004, in the hope of educating and empowering communities of colour to reverse the negative effects of punitive drug policies.
"Our focus is on promoting policy reform and we work with legislators and try and promote alternative policies," she explained.
With a new president being elected in November, Peterson is hoping that attitudes towards drug policy will change especially is Barack Obama is elected
"One of the reasons why I do this work is that you have to believe things can happen. He has came out and said that he will reverse some of these get on tough policies on drugs and I do have a lot of hope that this current policy can change," she said.
URL:
Black families suffer more economic hardships under Bush-McCain ... - Louisiana Weekly
All-White Jury to Decide O.J.'s Fate
September 13th, 2008
An all-White jury of 12 is one step closer to what you might call the opening kickoff of O.J. Simpson's armed robbery-kidnapping trial in Las Vegas. Many of those in the jury pool reportedly had strong opinions about Simpson's guilt in his double murder trial in Los Angeles back in 1995.
But according to
The Associated Press
, they felt they could put those feelings aside while hearing evidence in this case. Simpson, 61, faces 12 charges stemming from a confrontation in a hotel room in September last year after which he and a gang of gun-toting cohorts left with pillow cases stuffed full of sports memorabilia. In the state of Nevada, kidnapping and armed robbery both carry potential life sentences.
LAS VEGAS (AP) — A key witness in the O.J. Simpson robbery trial was confronted with contradictions in his testimony Tuesday, including his claim that he didn't try to profit from the casino hotel room confrontation that led to charges against the former football star.
Memorabilia dealer Bruce Fromong, who returned to the stand after becoming ill Monday, told defense attorney Gabriel Grasso he didn't have money on his mind while allegedly being robbed of sports collectibles by Simpson and a group of other men.
"You were not trying to profit off this?" asked Grasso.
"I was not trying to profit from it," said Fromong.
The attorney played a tape recording of the 2007 incident in which Fromong said,
"It's not (expletive) over. I'll have 'Inside Edition' down here for us tomorrow. I told them I want big money."
Fromong acknowledged it was his voice and he conceded that he later advertised memorabilia on eBay with the statement, "The same ones stolen by O.J. in Las Vegas."
On redirect questioning, District Attorney David Roger asked to play more of the tape excerpt in which Fromong raged against Simpson.
"Nobody puts a (expletive) gun in my face. I stood up for this (expletive) when he was in jail. I stood up for him when he was on trial. I set up his offshore accounts," he yelled.
Testimony came on the first anniversary of Simpson's Las Vegas arrest. He and co-defendant Clarence "C.J." Stewart are charged with 12 counts of robbery, kidnapping, assault with a deadly weapon and coercion. They have pleaded not guilty.
Tempers in the case boiled as Roger referred to the confrontation as "the robbery." The defense, which claims Simpson was trying to recover stolen personal items, objected on grounds that was a legal conclusion.
"He can call it alleged. I'm calling it a robbery," snapped Roger.
The judge admonished Roger to say "at the time of the incident" or "at the time of the event." She told jurors to disregard his remark and then yelled at objecting lawyers: "Sit down!"
"Listen folks," she said. "The last thing you want me to do as the judge is to start losing my temper in front of the fine ladies and gentlemen of the jury and having to deal with all of you. You've been warned, folks."
Fromong's contradictions continued. He acknowledged that he said previously, "I felt my life was being threatened."
But moments later, under inquiry by Stewart's lawyer Robert Lucherini, Fromong said, "I was not scared."
He insisted the memorabilia Simpson sought was not stolen but said he didn't know where some of it came from.
"I believe those items belong to Mr. Simpson's kids. They should go back to him," he said, claiming that if he and Simpson had discussed it, they could have reached "an arrangement" by which he would trade the items for Simpson's signature on photos he could sell.
Jurors Tuesday also saw surveillance video from the Palace Station casino hotel which showed the comings and goings of Simpson, Stewart and seven other men on the night of the alleged robbery. The tapes showed men walking about and eventually leaving with boxes.
Associated Press Writer Ken Ritter contributed to this report.