Incase You've missed our regular saturdays with Lady D on DaPowerhouseRadio - you've really missed some great radio. today we want to remind you that Reggae has alot to offer. Check this out - Artical and Classic.
Yes Don Carlos is one of our all time favorites and this is a gem that we can't overlook today.
Roots Rock Reggae is our Base Format on BadGalsRadio.com. So if you love reggae you'll love todays' update. this is a clipping from Reggae Report October. If these shows come to your area, be sure to check for them.
DON CARLOS – TOURING NORTH AMERICA FEBRUARY / MARCH 2012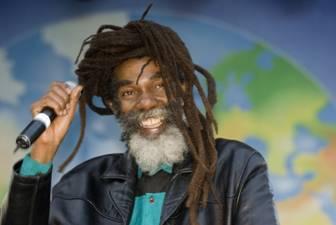 Don Carlos is a classic reggae act with his horn section and his strong catalog of hit songs. Don is in great demand worldwide. His schedule of live shows is very busy. He recently returned from a September / October European tour, where he was again well received. Before that he was touring North America as a special guest with Slightly Stupid. Prior to that in June 2011 he did some western U.S. dates on his own including the Reggae in the Desert festival, in Los Vegas and also a big double bill show with Junior Reid at 4th and B in San Diego. Last winter Don performed on the Southern CA Raggamuffin shows in Long Beach and San Diego. That was a great tribute to Don, since normally they don't repeat acts, and Don was on the shows last year as well. A lot of the festivals love Don and similarly host him year after year. He had an exceptionally strong performance on the Legends festival in San Diego. Last March, Don toured South America.
In his music, Don speaks for all people. He talks about peace and love, generosity and righteousness. He doesn't leave out thanking Jah for everything. "I love you and Jah loves you more", he says. "Love Jah, and you will have everything – all wisdom." Don has a big heart and a kind loving spirit. He is a special artist. Because of his blessings, the multitudes are drawn to him.
---
DOCUMENTARY - RASTA: A SOUL'S JOURNEY - WORLD PREMIERE IN MONTREAL
As the eldest granddaughter of reggae music's most iconic figure Bob Marley, Donisha Prendergast grew up in a world that revered the art and life of her grandfather. RasTa: A Soul's Journey a feature length documentary by director Stuart Samuels is an exploration of Rastafari, the inspiration for Bob Marley's music and his granddaughter's desire to dispel any misconceptions about the world of Rastafari. The documentary will have its world premiere at the Festival du Nouveau Cinéma in Montreal , October 18th & 20th. The FNC is one of Canada 's longest film festivals celebrating its 40th anniversary this year. The film unfolds with Donisha's personal odyssey to challenge the often cartoon perception of Rastafarians, and her focus on putting the story and message of this movement into a personal and global perspective. In the film Donisha encounters Rastafari communities of all races in Israel , India , Jamaica , South Africa , Ethiopia , Canada and the United Kingdom . In these countries, she meets with men and women who have chosen a Rastafari lifestyle. She explores how the movement evolved in that particular place and ultimately hopes to find her purpose as a young Rasta woman. The documentary features interviews with British/Jamaican writer and dub poet Benjamin Zephaniah, who is strongly influenced by the music and poetry of Jamaica and what he calls "street politics"; Reggae artist and successful entrepreneur Ras Levi-Roots, a Rastafarian who stands for peace, love and harmony amongst all people; Bob Marley's youngest son Damien Marley , wife Rita Marley; and Dr. Jake Homiak, curator of the exhibit Discovering Rastafari at the National Museum of Natural History, Smithsonian Institute.
Produced by Patricia Scarlett and Marilyn Gray, RasTa: A Soul's Journey is a documentary that moves away from the more familiar images of Jamaica , towards the various ways in which the Rastafarian movement has gone beyond the tiny Caribbean Island . It reveals the ways in which the message of Rastafari has manifested itself in diverse cultures, how the tenants of Rastafari are rooted in history and how they are made relevant to contemporary issues. The film's narrative unfolds as a voyage of discovery, driven by a woman's intense desire to understand the past and make a clear meaning of the present.
RasTa: A Soul's Journey was produced in partnership with Citytv.
SIMBA AMANI : :
Simba Amani hailing out of the twin island of Trinidad & Tobago is a young talented music artiste. After the recent launch of his first official music video he's been gaining popularity on the music scene on a daily basis.

This video, for his song "Hold my peace" can be seen on Synergy Tv and several internet websites, and continues to spread daily. Simba, who resides in Trincity, has recently completed his course of study at the University of The West Indies, attaining his first degree and has since dedicated himself to his music full time.

The singer/songwriter recorded his first track in 2009 and for two years has managed to accomplish quite a lot with the sole support of a few close friends and family members. Making quite a name for himself, opening for several renowned stars like Jr Gong, Nas and Jah Cure to name a few, Simba is turning up the air waves and on the road to a promising and bright music career.

Now after signing a management deal with Schizophrenic Entertainment in July of this year, Simba's game has been given the extra push needed and is constantly working on more projects. "Currently, I am working with a variety of local and foreign producers each with a different brand of music....although I started up singing mostly Reggae, I feel the need to truly express my versatility and my many moods which would be brought about with the different genres."

The rising star is about to launch more songs including "She knows" amongst others. Different from "Hold My Peace" a Reggae single that has gotten him more into the spotlight and so far as being called the local 'Jah Cure'. Simba would now leave others wondering what to call him as he releases this brand new dancehall track.

This new track really shows the young artiste's versatility as he makes out the girls who know exactly what they do to guys and was written by Simba himself. Simba expressed his plans of giving back to society.

Already with a number of great releases under his belt (Hello, All I Need, Let Jah Be Your Best Friend), both locally and internationally - having stretched his paws as far as Tanzania and Colombia- the young Lion says he's not stopping there. When asked of what more he has in store in the near future and beyond, he simply smiles and affirms that the only thing to expect from Simba Amani is the unexpected.

10-27
IJAH : :
Brand New Reggae/R&B Vibes By Mtl's Own .....Ijah !!

Look Out For The Mixtape "World Inna Stress" Dropping In October.....hosted by The USA's #1 Sound ...straight out Of Florida!! More on that in days to come...Share This , Spread It, Put It On REPEAT!!
SUGA ROY - SUGA ROY & CONRAD CRYSTAL UNIVERSAL TRIBUTE TO GREGORY ISAACS: : :
I give thanks to Jah for inspiring me with this idea to do this album "Suga Roy And Conrad Crystal Universal Tribute To Gregory Isaacs" featuring Fantan Mojah and Luciano on separate tracks.

The album has tracks such as 'Night Nurse', 'All I Have Is Love',

'Universal', 'Tune In', 'Hard Drugs', 'Border' plus 12 more classic tracks. I respect Gregory very much as an icon of reggae music; he was one of the greatest singer/songwriter in culture and lovers rock reggae and was one of my idols since I was a youth.

I love his music so much that in 2004 I teamed up with Conrad Crystal to do a remake of the Gregory classic 'Love Overdue' and that remake was a success for me and Conrad Crystal; everywhere we performed it, people loved it.

In 2006 I did a remake of 'Soon Forward' with Gregory Isaacs himself! It was a great experience for me to work with him as one of the great living icons at that time.

This new album is produced by Leroy 'Suga Roy' More for Fire Ball Records label. I want everyone to support this album.

ARTIST NAME: SUGA ROY & CONRAD CRYSTAL

LABEL NAME: FIRE BALL RECORDS PRODUCED BY LEROY 'SUGA ROY' MOORE

NAME OF SONG: NIGHT NURSE - SUGA ROY & CONRAD CRYSTAL

RELEASE DATE: ITUNES JUNE 28, 2011 PHYSICAL CD JULY 1, 2011

NAME OF CD: SUGA ROY & CONRAD UNIVERSAL TRIBUTE TO GREGORY ISAACS

www.stingrayrecords.net
LOOK WHO'S ON TOUR!


Nov 3 - Cafe Antokia, Bilbao, SPAIN NOv 6 - Salah Wah Wah, Valencia, SPAIN Nov 7 - Sala Penelope, Madrid, SPAIN Nov 8 - Sala Lopez, Zaragoza, SPAIN Nov 9 - Apolo, Barcelona, SPAIN Nov 10 - New Morning, Paris, FRANCE Nov 11 - La Kaserne, Basel, SWITZERLAND Nov 12 - Leon Kavallo, Milan, ITALY Nov 15 - McCormack's, Leipzig, GERMANY Nov 18 - Passport, Athens, GREECE

THE GREEN

Thu/Oct-27 – San Francisco, CA – Slim's Fri/Oct-28 – Los Angeles, CA – The Roxy Sat/Oct-29 – Santa Ana, CA – Yost Theatre Tue/Nov-01 – Dallas, TX – HOB Cambridge Wed/Nov-02 – Austin, TX – Antone's Thu/Nov-03 – New Orleans, LA – HOB Parish Fri/Nov-04 – Birmingham, AL – Zydeco Sat/Nov-05 – Atlanta, GA – Masquerade – Hell Stage Sun/Nov-06 – Jacksonville, FL – Jack Rabbits Tue/Nov-08 – Orlando, FL – The Social Wed/Nov-09 – Ft. Lauderdale, FL – Culture Room Thu/Nov-10 – Vero Beach, FL – Filthy McNasty's Fri/Nov-11 – Satellite Beach, FL – Sports Page Sat/Nov-12 – Charleston, SC – Pour House Sun/Nov-13 – Raleigh, NC – Lincoln Theatre Tue/Nov-15 – Charlottesville, VA – The Southern Wed/Nov-16 – New York, NY – Highline Ballroom Thu/Nov-17 – West Chester, PA – The Note Fri/Nov-18 – Baltimore, MD – The 8×10 Sat/Nov-19 – Cambridge (Boston), MA – Middle East Sun/Nov-20 – Portland, ME – Port City Music Hall Mon/Nov-21 – Clifton Park (Albany), NY – Northern Lights Wed/Nov-23 – Rochester, NY – Water Street Music Hall

Collie Buddz w/ Gappy Ranks and New Kingston

October 27, 2011 – San Luis Obispo, CA – SLO Brewing Company

October 28, 2011 – San Diego, CA – House of Blues

October 29, 2011 – West Hollywood, CA – Roxy Theatre

October 30, 2011 – Las Vegas, NV – Henderson Pavilion

October 31, 2011 – Reno, NV – Knitting Factory Concert House

November 2, 2011 – Sacramento, CA – Harlow's

November 3, 2011 – Santa Cruz, CA – The Catalyst

November 4, 2011 – San Francisco, CA – The Fillmore

November 5, 2011 – Chico, CA – Senator Theatre

November 6, 2011 – Arcata, CA – Arcata Theatre

November 8, 2011 – Ashland, OR – Historic Ashland Armory

November 9, 2011 – Bend, OR – Domino Room @ Midtown

November 10, 2011 – Eugene, OR – WOW Hall

November 11, 2011 – Portland, OR – Mt. Tabor Theatre

November 12, 2011 – Seattle, WA – Showbox at the Market

November 13, 2011 – Victoria, BC – Club9one9

The Mighty Diamonds Oct 2011

Oct 27: TBA Hartford, CT Oct 28: One Pelham East 270 Thames St. Newport, RI Oct 29:Bambou Baltimore 229 N. Franklintown Rd. Baltimore, MD

Mon Oct 31:The Funky Buddha 2621 North Federal Highway Boca Raton, FL

THE MIGHTY DIAMONDS WITH THE YELLOW DUB SQUAD

Oct 27: The Saint 601 Main Street Asbury Park, NJ Oct 28: One Pelham East 270 Thames St. Newport, RI Oct 29:Bambou Baltimore 229 N. Franklintown Rd. Baltimore, MD Oct 30:Club Footprints 4185 Snapfinger Woods Dr Decatur, GA Oct 31:2621 North Federal Highway Boca Raton, FL

PATO BANTON TOUR

28-Oct-2011 New Orleans, LA Club Caribbean More Details 19-Nov-2011 Downtown Miami, FL Bayside Rocks Festival

Fri - Oct 28th - HARVEST FEST REGGAE VIBEZ - Willitz Grange, California

October 29, The Bambou, 229 N. Franklintown Road, Baltimore, Maryland

November 12, Lou Rawls Theater, Florida Memorial College, 15800 NW 42nd Avenue, Miami Gardens, Florida

Nov. 12 - Humboldt HempFest - Mateel Community Center, Redway

ON THIS DAY IN REGGAE ----:
Bernard 'Touter' Harvey [Soul Syndicate/Wailers/Inner Circle; keyboards] is born. 1969: Twiggy (Marie Gittens) [54-46] is born. (some say b. October 10) 1971: Republic of the Congo becomes Republic of Zaire. 1990: Nelson Mandela visits Japan. 2000: Drummer Winston Grennan passes away after experiencing respiratory complications.
Natty Dread Essential cause Reggae have it's Credentials; Yes Reggae Has It's Credentials from Sea to Shining Sea,

You Seet

!